Report: Classified US document says Taliban ready to take power in Afghanistan, backed by Pakistan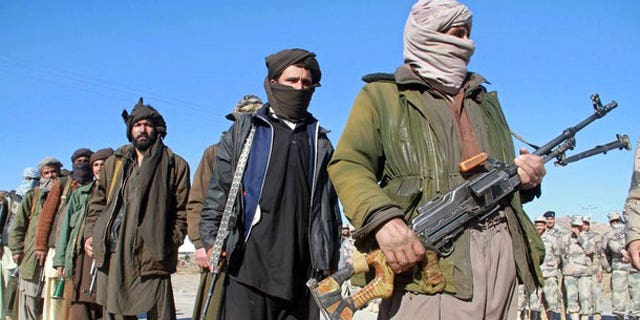 LONDON – A highly-classified U.S. report that said the Taliban, backed by Pakistan, is ready to take control in Afghanistan was not an analysis of the military campaign's progress, a NATO spokesman said Wednesday.
The document, leaked to The London Times, "may provide some level of representative sampling of Taliban opinions and ideals but clearly should not be used as any interpretation of campaign progress," Lieutenant Colonel Jimmie Cummings told AFP.
The "State of the Taliban" report, compiled by U.S. forces operating out of Afghanistan's Bagram Air Field, suggested that the 10-year Western-led intervention in the country will not stop the Taliban from returning to power.
"Though the Taliban suffered severely in 2011, its strength, motivation, funding and tactical proficiency remains intact," the report said. "Many Afghans are already bracing themselves for an eventual return of the Taliban."
However, Cummings added, "It's important that this context be understood and extremely important not to draw conclusions based on the Taliban comments."
The report, sent to NATO leaders last month, was based on information gained from more than 20,000 interrogations of several thousand Taliban and Al Qaeda detainees at the Bagram base.
It also details the strong links between the Taliban and Pakistan -- especially its Inter-Services Intelligence (ISI) spy agency, according to newspaper report.
"The government of Pakistan remains intimately involved with the Taliban. ISI is thoroughly aware of Taliban activities and the whereabouts of all senior Taliban personnel. Senior Taliban leaders meet regularly with ISI personnel, who advise on strategy and relay any pertinent concerns of the government of Pakistan," the report read.
"ISI officers tout the need for continued jihad [holy war] and expulsion of foreign invaders from Afghanistan," the document continued.
The report added, however, that the information gained from Taliban prisoners provided little evidence that Pakistan is directly funding or providing weapons to the Taliban.
Pakistan's government reacted angrily to the report Wednesday. "This is frivolous, to put it mildly. We are committed to non-interference in Afghanistan and expect all other states to strictly adhere to this principle," foreign ministry spokesman Abdul Basit said.
Pakistan's foreign minister Hina Rabbani Khar was due to hold talks with Afghan president Hamid Karzai in Kabul on Wednesday, which had been billed as an effort to get notoriously frosty relations back on track.
"We are also committed to an Afghan-led and Afghan-owned reconciliation process," Basit said. "Pakistan has suffered enormously because of the long conflict in Afghanistan. A stable and peaceful Afghanistan is in our own interest and we are very much cognizant of this."