Relatives of Venezuelan President Nicolas Maduro arrested trying to smuggle nearly 1 ton of drugs into U.S.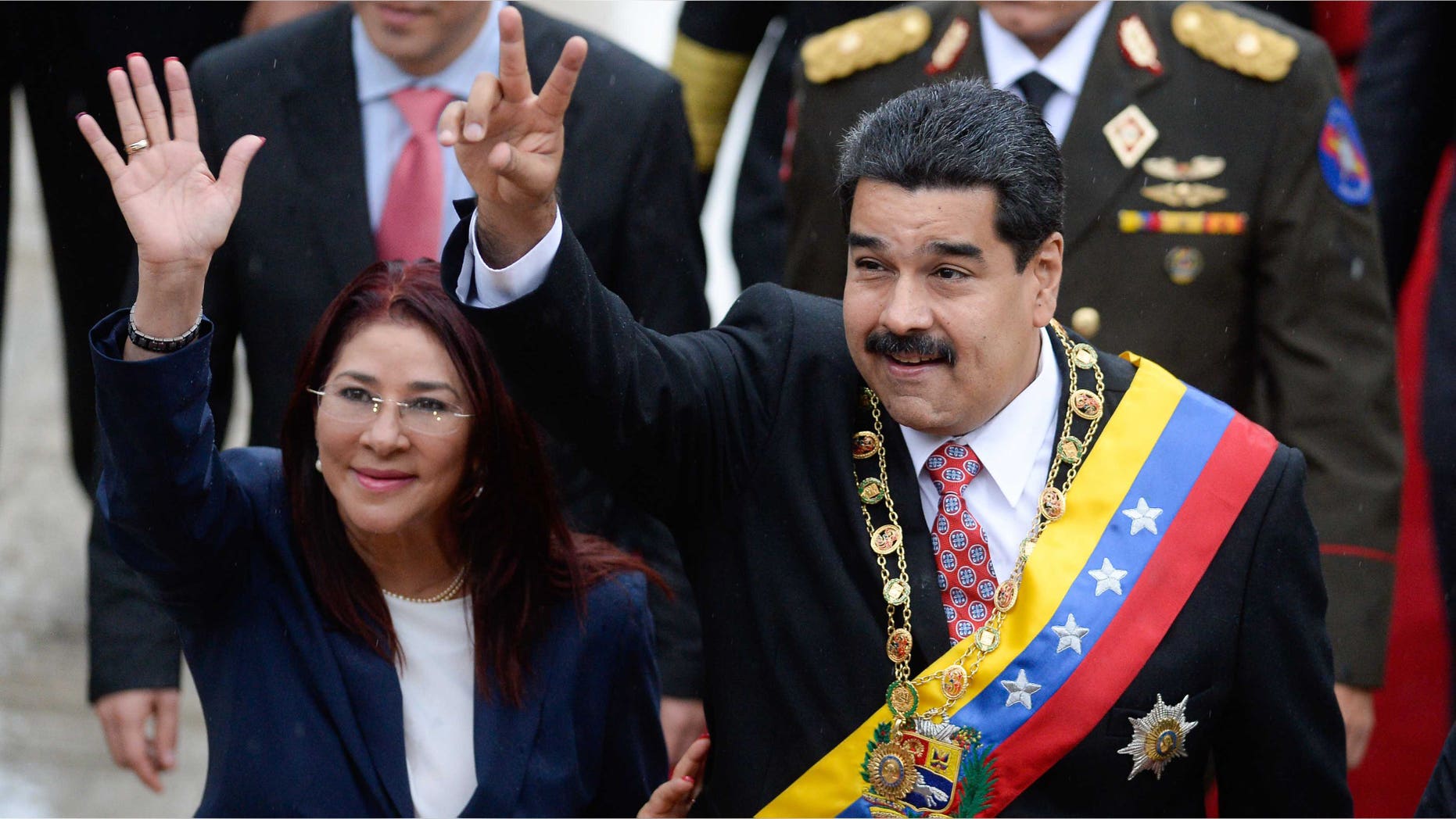 New York – Two nephews of Venezuelan President Nicolas Maduro and his wife Cilia Flores have been arrested on charges of drug smuggling, Fox News Latino has confirmed.
The two men were arrested in Haiti on Tuesday night as part of a sting operation coordinated by the U.S. Drug Enforcement Administration.
The U.S. Attorney's Office for the Southern District of New York presented the charges against Efraín Antonio Campos Flores and Francisco Flores de Freites. Both men are scheduled to appear before a federal judge on Thursday.
During the arrest, Campos claimed to be the son of Flores and stepson of President Nicolas Maduro, said former DEA official Michael Vigil to the Associated Press. Campos reportedly was raised by the couple and grew up in the Maduro household.
Vigil said he was briefed by U.S. authorities about the undercover operation that resulted in the arrests.
The men allegedly were in the process of smuggling cocaine – just under a ton, roughly about 1,700 lbs. – into the United States when they were arrested in Port-au-Prince, where their plane arrived, and brought by authorities to New York.
The young men told authorities that they had diplomatic immunity, but police found no basis for their claim,  Spanish news outlet ABC said.
They told the DEA that they were acting in connection with Diosdado Cabello, speaker of the National Assembly, as well as with a governor, Tarck el Aissami, who is the former Venezuelan Minister of the Interior.
They said that the high-ranking officials had helped with the drug shipment.
Cabello, Venezuela's second most powerful figure, has been a focus of U.S. drug-trafficking investigation involving top members of the Venezuelan government.
A longtime ally of late President Hugo Chavez, whom he met while in the Military Academy back in the 80s, Cabello is known these days as Chavismo´s main bully and has repeatedly been accused of corruption.
Fox News Latino reached out to three separate government officials in Caracas but was unable to get a comment as of Wednesday evening.
Longtime critics of the Maduro and Chavez governments say the arrests are yet another example of the corruption that has pervaded the administration.
"It is becoming increasingly difficult for the Venezuelan government to hide its true colors," said Thor Halvorssen, president of the Human Rights Foundation and a relative of the jailed opposition leader, Leopoldo Lopez, to Fox News Latino.
"Venezuela's government is a criminal enterprise composed of a drug cartel, a money laundering financial system, and a kleptocracy," he added.
"Maduro, his family, and his henchmen make Pablo Escobar's Medellin Cartel look disorganized and small-time," Halvorssen said. "Venezuela uses its army, its foreign ministry, and its banking sector as accessories to a profitable drug business."
This is not the first time that young people related to Maduro and Flores have been implicated in drug smuggling.
A former chief of security for the late Venezuelan president, Hugo Chavez, said that Walter Jacob Gavidia Flores, son of Maduro's wife, and Nicolas Maduro, son of the current president, used small planes belonging to the national petroleum company, PDVSA, to transport drugs, according to ABC.
The security chief also implicated Huguito Chavez, the son of the late president, and Cuba's former ambassador to Venezuela, German Sanchez Otero – and other Cuban officials – in cocaine smuggling. He said that they used PDVSA's corporate jets to take drug shipments to Cuba, and then smuggled to the United States.