Real-life 'Spiderman' who saved child dangling from balcony to become French citizen
A man who was hailed as a hero after scaling a building to save a child dangling from a Paris balcony will be granted French citizenship and was offered a job as a firefighter.
Mamoudou Gassama, 22, a Malian illegal migrant, met with French President Emmanuel Macron Monday at the Elysee Palace, just two days after his daring rescue was captured in a now-viral video. Gassama scaled four floors of a building in northern Paris on Saturday to save a 4-year-old boy, Sky News reported.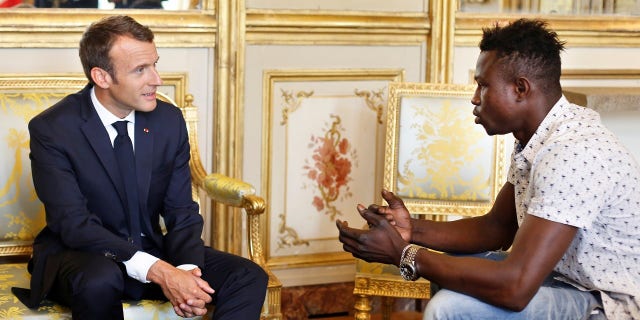 "I just didn't have time to think, I ran across the road to go and save him," Gassama told Macron during the meeting. "I just climbed up and thank God, God helped me. The more I climbed the more I had the courage to climb up higher, that's it."
WATCH: HEROIC GEORGIA COP USES CPR TO SAVE CHOKING INFANT
A man in the neighboring balcony was attempting to hold the child up before Gassama reached out with his right arm and pulled the child to safety. Gassama, who was dubbed a "real-life Spiderman," said the boy was crying and had an injured foot.
Bystanders captured the rescue on video, which was viewed millions of times on social media platforms.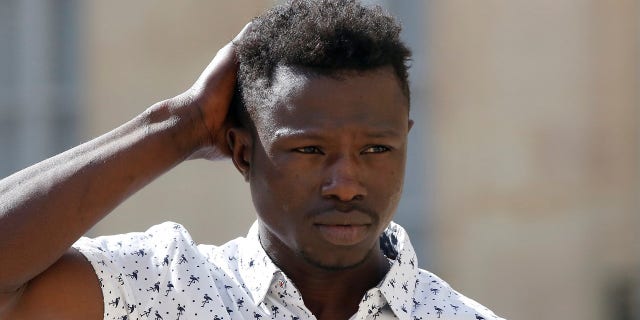 Macron called Gassama's actions an "exceptional act."
"You saved a child. Without you, no one knows what would have become of him," Macron said. "You need courage and the capability to do that."
TEXAS MAN'S ACT OF KINDNESS FOR ELDERLY WOMAN GOES VIRAL
The French president said Gassama, who was in France illegally, will be granted citizenship and offered a new job with the Paris fire brigade. Gassama had arrived in Paris a few months ago in hopes of starting a new life, Paris Mayor Anne Hidalgo told Sky News.
"I told him that his heroic act is an example to all citizens and that the city of Paris will obviously be very keen to support him in his efforts to settle in France," Hidalgo said.
Macron also gave Gassama a medal and certificate for his bravery.
Police later questioned the boy's father for leaving the child unattended. The boy's mother was reportedly not in Paris at the time.