Rail firm files for bankruptcy after Canada disaster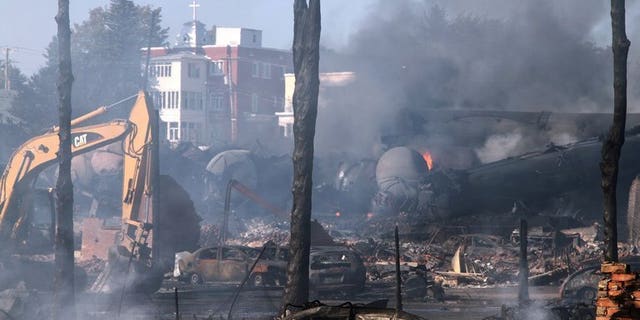 MONTREAL, Quebec (AFP) – The owners of a train that derailed in Canada last month leaving dozens dead has filed for bankruptcy, the company said.
Montreal, Maine & Atlantic said it was seeking bankruptcy as a direct result of the July 6 accident in the Quebec town of Lac-Megantic which killed 47 people.
Montreal, Maine & Atlantic Railway, Ltd. has filed for Chapter 11 protection in US Bankruptcy Court for the District of Maine, a statement said. Its sister company, Montreal, Maine & Atlantic Canada Co., meanwhile, filed a petition with the Superior Court of Quebec in Montreal.
"It has become apparent that the obligations of both companies now exceed the value of their assets, including prospective insurance recoveries, as a direct result of the tragic derailment at Lac Megantic," said Edward Burkhardt, chairman of the board of both companies.
The train was carrying crude oil from the Bakken shale fields of North Dakota in 72 tanker cars near the Canada-US border to an Irving Oil refinery in New Brunswick.
The accident was Canada's worst in 15 years.
Quebec authorities have already addressed two formal notices to MMA to force it to pay for the cleanup and decontamination of the affected area devastated by a blast that lasted almost two days.
"MMA wishes to continue to work with the Quebec Ministry of the Environment, the municipality of Lac Megantic, and other government authorities in the continuing environmental remediation and clean-up as long as is necessary, and will do everything within its capacity to achieve completion of such goal," Burkhardt said.
He has said the disaster appeared to have been caused by an engineer's failure to properly set hand brakes on the runaway train.