Radical solution proposed for UN sex abuse crisis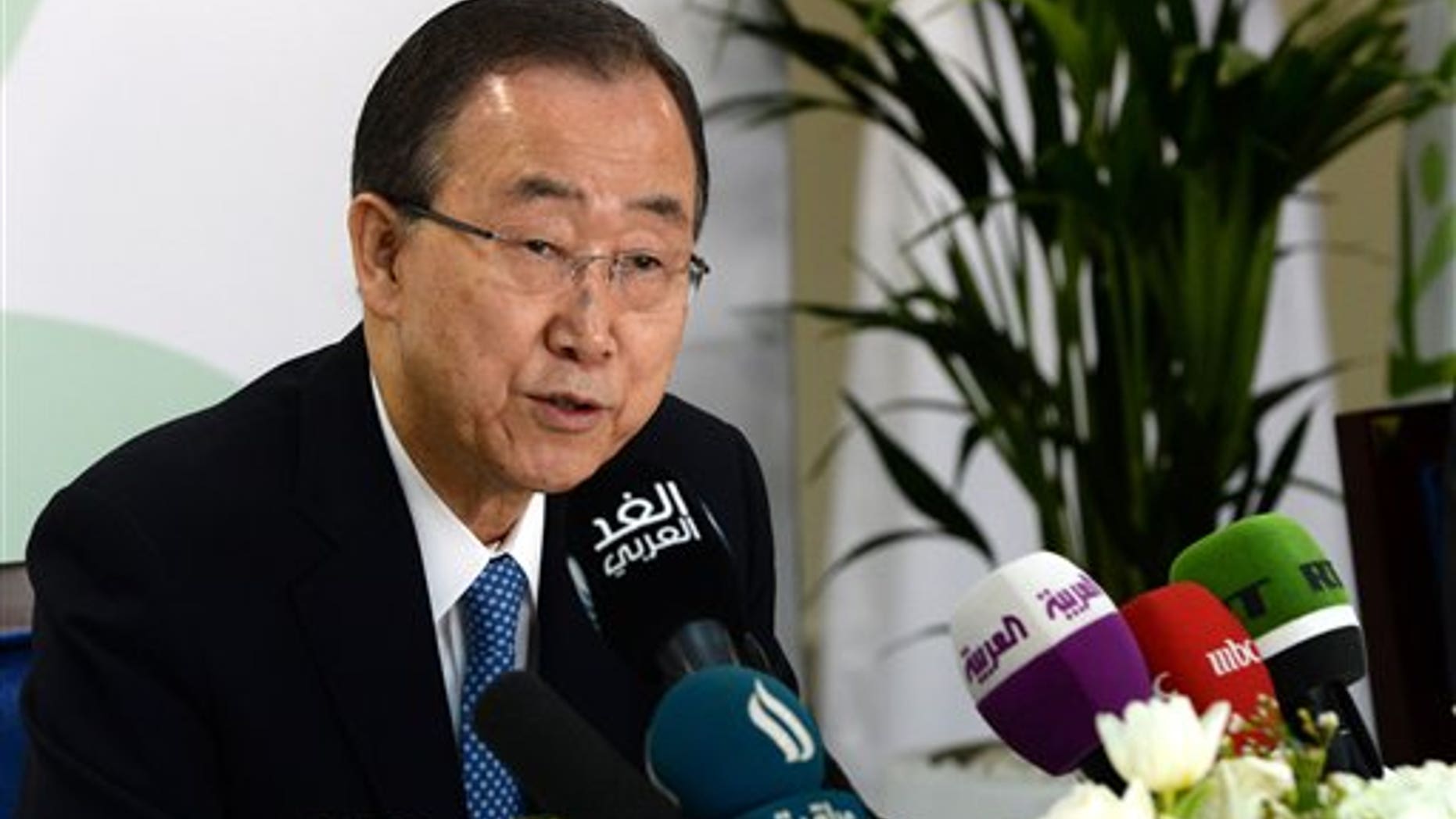 Please see bottom of story for an update.
While the United Nations waits for Secretary General Ban Ki-moon to issue his latest report on curbing sexual exploitation and abuse by peacekeepers, a gadfly reform group has come up with its own radical prescription:  take the monitoring and pursuit of the U.N. wrongdoers away from the world organization entirely.
"It's time to take the entire function out of the hands of the [U.N.] Secretariat," declared Paula Donovan, co-director of a non-government organization named AIDS-Free World. Donovan's group has been carrying out an aggressive, nearly year-long campaign, dubbed Code Blue, against peacekeeper sex crimes and how the U.N. handles them.
Donovan termed years of U.N. efforts so far to curb those abuses a "stunning failure in all regards," and  suggested instead that a "small but high-level diversified board" composed of judges, academics, military and police authorities and other knowledgeable experts (including women) do the policing and take cases directly to U.N. member states instead.
The expert group would constitute a kind of independent internal monitor, working alongside the U.N. bureaucracy "at every level," in Donovan's phrase, to watch for sexual crimes and abuse on a real-time basis.
"The U.N. has substantial privileges and immunities that allow it to shield its own people as well."
Whatever Ban himself proposes, the new Code Blue P.R. offensive is clearly intended to spark discussion about a critical U.N. problem: What to do when not only peacekeeper sexual abuse but other forms of criminality or negligence force the world organization to police itself -- something that, by and large, many experts overwhelmingly feel it has done badly, while efforts at reform have proceeded in fits and starts for the best part of a decade.
"It's not just peacekeepers," observes Brett Schaefer, a U.N. expert at the conservative Heritage Foundation. "Other people in the U.N. system are part of the problem as well. The U.N. has substantial privileges and immunities that allow it to shield its own people as well."
While skeptical about the Code Blue proposal itself, he felt that  AIDS-Free World had "put its finger" on the heart of the problem:  "The U.N. feels enormous pressure to avoid accountability for the actions of those working for it."
By way of illustration, Donovan contrasted the new suggested  approach with the cumbersome post-facto investigations involved in U.N. sexual abuse probes, which have frequently been blunted through bureaucratic indifference or outright obstruction and have ended, as Donovan sarcastically put it, in "a travesty of justice" and "the same pantomime of remorse."
As she elaborated in a press release, "The world is waiting to see whether member states will solve a catastrophe of the U.N.'s own making. In our analysis, the crisis cannot be managed from within."
Just how the crusading board would work, how it would be selected -- beyond the fact that it would be done directly by U.N. member states, rather than by the U.N. bureaucracy -- and just exactly how its independent authority would work, Donovan and her co-director, Stephen Lewis, a onetime Canadian ambassador to the U.N. and former U.N. special envoy for HIV/AIDS in Africa, did not say.
Indeed, Donovan claimed, "we don't want to be too prescriptive" about the measure, but rather put it forward "to provoke discussion with [U.N.] member states" -- clearly an attempt to put heat on, or steal thunder from, Ban's regular February report on the topic, a ritual ever since he proclaimed a "zero tolerance" policy toward peacekeeper sexual exploitation and abuse in 2012.
As part of that provocation, the duo said that they had been circulating their proposal among a group of about 15 countries, including the U.S., Britain, Germany, Sweden, South Africa and even tiny Lichtenstein. According to Lewis, "two governments" -- he did not specify which -- had "shown interest," while an anonymous third country "had asked for a meeting."
One likely reason for the interest is that AIDS-Free World and its campaign have well-established bona fides as a conduit for U.N. insiders unhappy with the way the world organization has struggled with the sex-abuse problem so far.
Among other things, the Code Blue campaign has published internal U.N. documents that described what investigators called a "culture of silence" and "enforcement avoidance" among U.N. peacekeeping forces where sexual abuse is involved. 
The campaign also unveiled internal emails that last December led an independent panel of jurists to rip specific U.N. officials for inaction and deliberate coverup in the probe of sex crimes against children by non-U.N. peacekeepers, in the Central African Republic.
The panel conclusions came in a 143-page report that offered its own solutions to the sex-abuse crisis and a strong recommendation that such crimes be treated as human rights abuses rather than violations of military discipline -- a key reason behind the torpor, in the panelists' view.
Secretary General Ban has said he would take the panel's recommendations under advisement, and they are almost surely going to be reflected in his own February report. Just when in February Ban's document will appear, however, is still unclear.
His spokesperson, Stephane Dujarric, told journalists yesterday that "it should be coming out in the not-too-distant future." He added in response to a question from Fox News that "the Secretary-General very much wants to see improvements as soon as possible, much before the end of his tenure" -- which concludes on December 31.
No one doubts that to be true. The question is how much the secretary general, and U.N. member states themselves, are prepared to do about it, when measured against, among other things, the efforts required to keep the U.N.'s huge peace-keeping machinery up and mostly running.
One major reason for the peacekeeping abuse crisis is the huge extent of U.N. peacekeeping itself, in vast areas of the world where law and order, economies and social structures have been battered or destroyed: some 16 missions, involving nearly 125,000 personnel and an annual budget for 2015-2016 of -- so far -- $8.27 billion. (Starting in 2016, the U.S. pays some 28.6 percent of the total bill, up from 28.4 percent for the previous three years.)
But another major reason is that the enforcement of penalties, and very often the investigations themselves, have largely been left up to the member states who provide the troops involved in the offenses, after filtering through an elaborate U.N. bureaucratic process -- the same member states that Code Blue wants to prod into more dramatic action.
The attitude of troop-producing countries is one major reason why the Heritage Foundation's Schaefer, while he applauds the effort in principle, is skeptical about Code Blue's chances for success with its initiative.
Additionally, he told Fox News, "It's really difficult to establish an external body to oversee an intergovernmental organization. That concept in itself is unprecedented."
Even though "a large part of the problem is that the U.N. is unwilling to hold itself to its own standards," a more fruitful avenue, he suggested, would be to pressure the U.N. to get "really firm" and send home entire units of peacekeeping troops when patterns of sexual abuse were detected, and also to withhold large, rather than token, amounts of the money it pays troop-contributing countries until it is sure that sexual offenders and other wrongdoers are truly being brought to justice.
For their part, U.N. peacekeeping officials themselves vow, as a spokesman put it, that "the issue of abuses committed by peacekeepers -- whether working under U.N. authority or not -- is of the highest priority for the secretariat, the secretary general and the U.N. system as a whole."
The spokesman added that "for quite some time, the secretary general has also been saying that dealing effectively with the issue cannot be left solely to the U.N.," and that member states and troop contributing countries "have to live up to their responsibility in this matter."
The spokesman asserted that in his upcoming February report, Ban would name specific countries whose troops had been involved in "credible allegations" of sexual exploitation and abuse. He also said that new six-month deadlines for investigation of alleged abuses by U.N. probers have been set; and that where troops or police were credibly suspected of such offenses, the payments that the U.N. makes to their countries of origin would be suspended -- albeit only for the individual involved.
Much else that Ban says he wants to do, however, involves more negotiating, either with the troop providers or the U.N. membership in general. That includes the installation of investigators in U.N. contingents to watch out for abuse, tougher procedures to vet troops for prior misconduct, and possible eviction of entire peacekeeping units, or their commanders, when egregious patterns of abuse occur.
Ever since Ban appointed his Central African Republic investigating panel last June, however, the U.N. says it has been greatly speeding up notifications to troop-supplying countries of allegations of abuse against their soldiers or police, and asking for the same six-month investigation deadlines that it applies to its own watchdogs.
In response to a question from Fox News, however, a spokesman for U.N. peacekeeping said he did not have the exact number of notifications of sexual abuse that have been issued since June "to hand."
Update: After this story was published, a U.N. peacekeeping spokesperson told Fox News that since July 1, 2015, troop contributing countries have been informed 24 times of sexual exploitation and/or abuse allegations against their personnel, and have been asked to investigate. The tally for the entire year is 34. In each case, the country was asked to complete an investigation within six months.
George Russell is Editor-at-Large of Fox News. He is reachable on Twitter at @GeorgeRussell and on Facebook at Facebook.com/George.Russell