Qaddafi Shells Eastern Libyan City, Move Into Rebel-Held Western City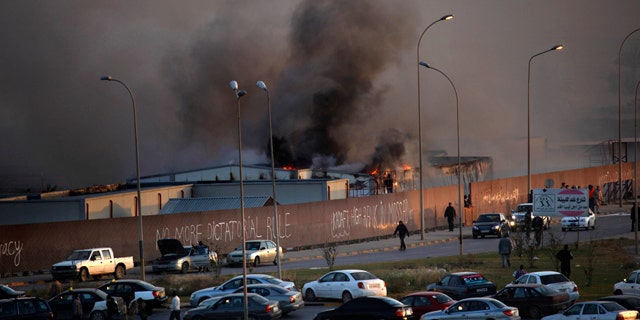 AJDABIYA, Libya – Troops loyal to Libyan leader Muammar al-Qaddafi on Sunday shelled the rebel-held city of Ajdabiya, a strategic eastern town that has been the scene of fierce fighting in recent weeks.
The government bombardment of Ajdabiya marked a setback for the rebels, who were forced to retreat a day after having advanced as far as the outskirts of the oil town of Brega, about 60 miles to the west.
On Sunday, dozens of vehicles, some of them rebel trucks with heavy machine guns mounted in the back, could be seen fleeing Ajdabiya toward the rebel stronghold of Benghazi, about 100 miles to the north.
Last month, Qaddafi's troops encircled Ajdabiya with tanks, armored personnel carriers and heavy artillery before NATO airstrikes decimated the forces besieging the city and allowed the rebels to reclaim the town and push west.
The NATO-led air campaign has kept rebels from being defeated on the battlefield by the better trained and equipped government forces, but it still has not been enough to completely turn the tide. The rebels have been unable to reach Qaddafi's heavily defended hometown of Sirte, the gateway to the regime-controlled western half of the country.
Rebel advances west of Ajdabiya -- through Brega and its companion oil center of Ras Lanouf, another 60 miles farther on -- have ultimately foundered as rebels overextended their supply lines and were routed by the heavier firepower and more sophisticated tactics of the government forces.
But while Qaddafi's troops have been able to halt rebel advances and push back east, they have been unable to move in on Benghazi, largely because of the threat of NATO airstrikes on Qaddafi's exposed forces.
In Paris, French Defense Minister Gerard Longuet dismissed statements from a top NATO official that the alliance is short of aircraft. Longuet said instead that NATO's mission in Libya is hampered by a lack of ground information.
"There is no lack of planes but a lack of identification of mobile objectives," he said in an interview published Sunday in the daily Le Parisien. "The problem is that we're missing concrete and verifiable information on identified objectives on the ground."
Longuet said that "coalition aviation is capable of breaking all logistical provisions of Qaddafi's troops" to the east. But he acknowledged that in urban combat, "if the aviation avoids tragedies, it still isn't solving the problem."
After a meeting of NATO foreign ministers last week in Berlin, the alliance's secretary-general, Anders Fogh Rasmussen, said NATO needed "a small number of precision aircraft" to hit Qaddafi's forces.
"I'm hopeful that nations will step up to the plate," he said, noting that the two-day Berlin meeting was not held to solicit new pledges of support.
The need for the additional aircraft comes as the situation has changed on the ground, Fogh Rasmussen said.