Protesting Bangladesh workers say wages not enough to buy food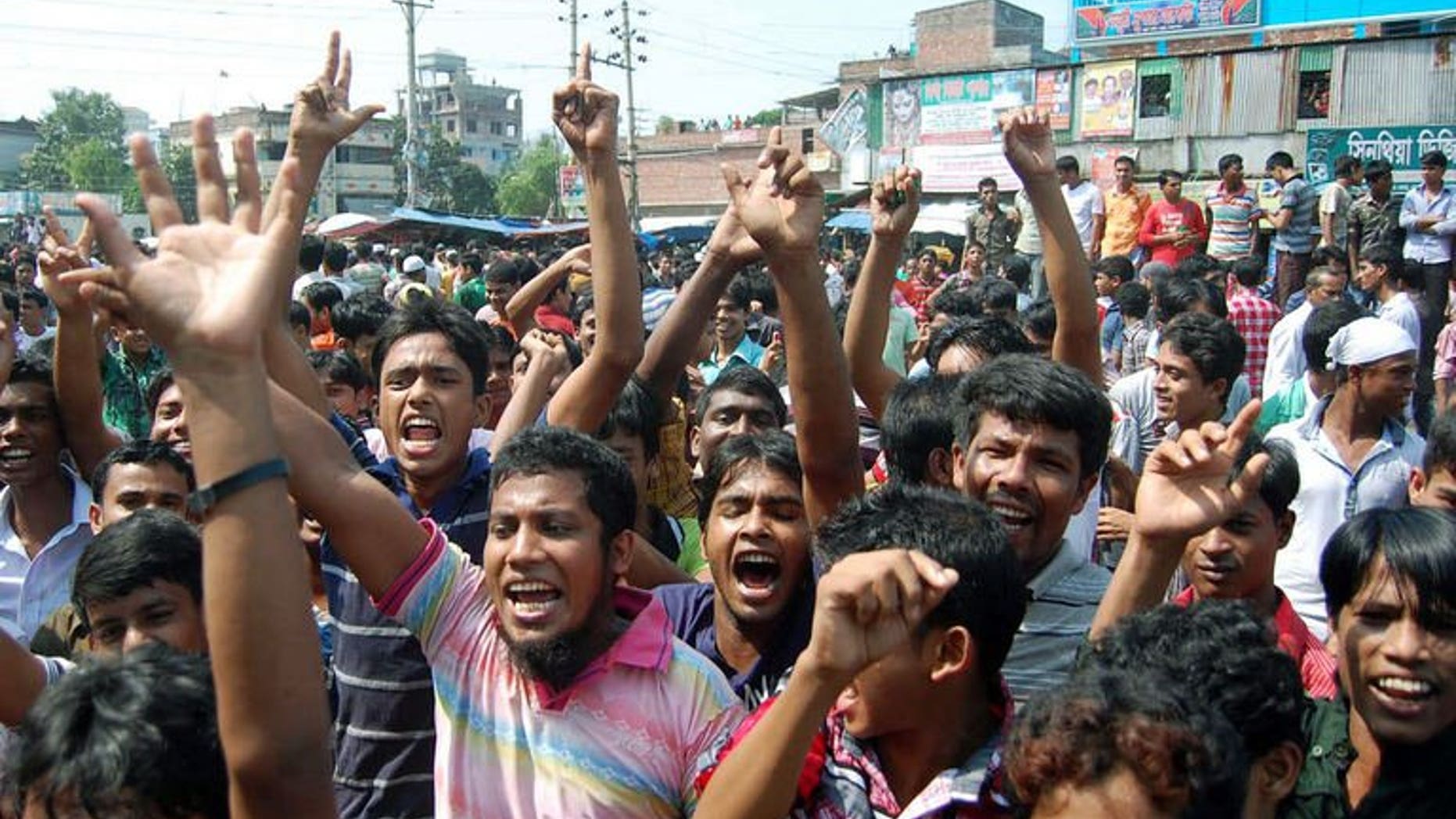 ASHULIA, Bangladesh (AFP) – Protesting Bangladesh garment workers complained Tuesday they cannot even afford to feed their families as they staged a fourth day of street protests demanding a near-tripling of wages.
Police fired tear gas at several thousand workers who blocked major roads near Dhaka's main airport and at the key industrial hubs of Ashulia and Fatullah outside the capital in the latest demonstrations.
"Some 2,000 workers blocked roads at Ashulia. Industrial police fired tear gas to disperse them," local police chief Badrul Alam told AFP.
The protests, smaller than ones in previous days when up to 200,000 took to the streets, resumed despite a senior government minister's assurance late Monday of a pay rise for all garment workers by November.
Workers said the current minimum monthly wage of $38 dollars is not enough to cover food, rent, education and other basic family needs.
"I earn 4,000 ($50) taka per month with overtime," said a female worker protesting at Kuril near the airport.
"It does not cover all my expenses. The house rent has gone up, education costs of my kids are rising all the time," said Hamida Begum, 30.
"I can't send money to my old parents. And there are days we don't have proper food," she added.
Protests over poor wages, benefits and working conditions are frequent but have gained in intensity since April when a factory complex collapsed, killing more than 1,100 people in one of the world's worst industrial disasters.
The government urged protesters to return to work after tens of thousands Monday joined one of the biggest pay-rise demonstrations in years. Scores were injured as angry workers clashed with police, torched factories and attacked a police camp.
The government has warned against harming the garment industry, the country's economic mainstay, after some 300 factories temporarily shut down.
Manufacturers estimate tens of millions of dollars in losses as a result of the protests, which started on Saturday.
Unions have demanded a new minimum wage of 8,114 taka ($100) and have threatened to launch non-stop protests in all 4,500 garment factories.
Cabinet minister Shahjahan Khan said wages would be raised by November, a month earlier than the previous deadline, after holding lengthy talks with manufacturers and unions that ended late Monday.
"Owners have been requested to implement the new salary structure by November. They have also given their assurance," he said after the meeting.
But the exact figures are unclear as owners have only agreed to raise salaries by 20 percent, saying a bigger rise would jeopardise their competitive advantage.
Low wages have played a key role in making Bangladesh the world's second-largest garment exporter after China, with apparel shipments accounting for 80 percent of the country's $27 billion annual exports.
On Tuesday several factories, which make clothing for top Western retailers such as Walmart, shut down as a precaution after days of violent protests and after workers walked off the job.