Protesters in Poland Block Cross from Being Moved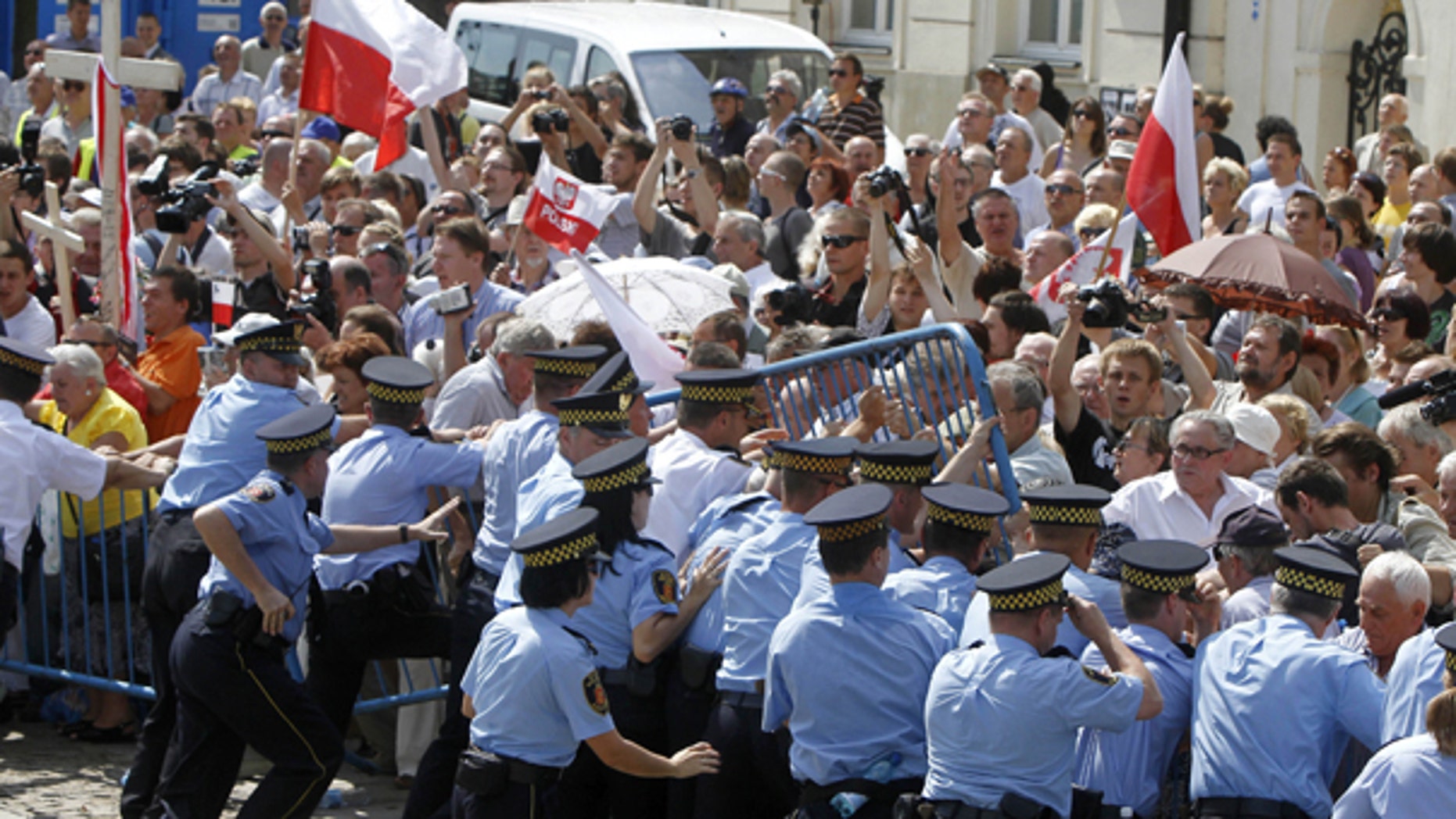 WARSAW, Poland – WARSAW, Poland -- Protesters shouting "Defend the cross!" have managed to prevent Polish officials from moving a cross erected outside the presidential palace in memory of the late President Lech Kaczynski.
About 20 demonstrators stood in front of the wooden cross on Tuesday, pleading with priests who were supposed to move it to the nearby St. Anne's Church. They were supported by a cheering crowd of hundreds gathered behind a police barrier across the street.
Security officials dragged away a few of the chanting, praying protesters -- including a woman who tried to tie herself to the cross. But officials decided not to immediately press ahead with the plan, which is opposed by some Kaczynski supporters.
Kaczynski's supporters have turned the cross into a shrine where they focus their grief over the late leader's tragic death in a plane crash in Russia on April 10. It has also become a source of friction with their political rivals, who argue that the cross should be moved away from state to church ground, with President-elect Bronislaw Komorowski saying the makeshift symbol should not remain in front of a top state building.
While church and state are technically separated in the staunchly Catholic Poland, the church wields some influence in political life.
"The cross will not be moved to the church today," said Jacek Michalowski, the head of the presidential office. "The level of aggression is too high ... the cross should not be used for political games."
It wasn't immediately clear whether officials would make another attempt to move it.
Amid deep national mourning, scouts groups put up the cross five days after the plane crash that killed Kaczynski, his wife Maria, and 94 others, including top military leaders.
Some members of the main opposition party -- which is led by the late president's twin brother, Jaroslaw Kaczynski -- have said the cross should remain put until a permanent monument is built at the site, a call backed by their conservative Roman Catholic supporters.
But Komorowski and Warsaw city officials want the cross moved to the church and worked out an agreement with church leaders to do so.
Warsaw Archbishop Tadeusz Nycz said Tuesday that a compromise should be sought, which would guarantee that a memorial plaque would be put up in front of the palace.
Lech Kaczynski's death was followed by an unusual period of harmony in Poland's often-bitter politics, but that has since frayed. Komorowski defeated Jaroslaw Kaczynski last month in an election for the vacant presidency and is to be sworn in on Friday.
The crash also inspired an improvement in traditionally tense Polish-Russian relations. Moscow shared in Poland's sorrow and pledged full cooperation in investigating the crash -- which happened as Kaczynski flew to a memorial for 22,000 Polish officers murdered by Soviet dictator Josef Stalin's secret police in the 1940 Katyn massacres.
Still, Polish officials have complained this week that Russian officials are being slow in handing over documents needed for a Polish investigation into the crash, focusing on whether anyone in Poland was to blame.
That is being conducted alongside the main Russian investigation, in which a Polish official is an observer. Both sides are supposed to share their information.
Polish Interior Minister Jerzy Miller said Monday that holes in documentation provided by Russia are preventing the Poles from reaching conclusions. Prime Minister Donald Tusk said he would ask Moscow for an explanation of delays in making the documents available.
Officials in Moscow had no comment Tuesday on the complaints.