Protesters call on Clinton and Democrats to end deportations, close family detention centers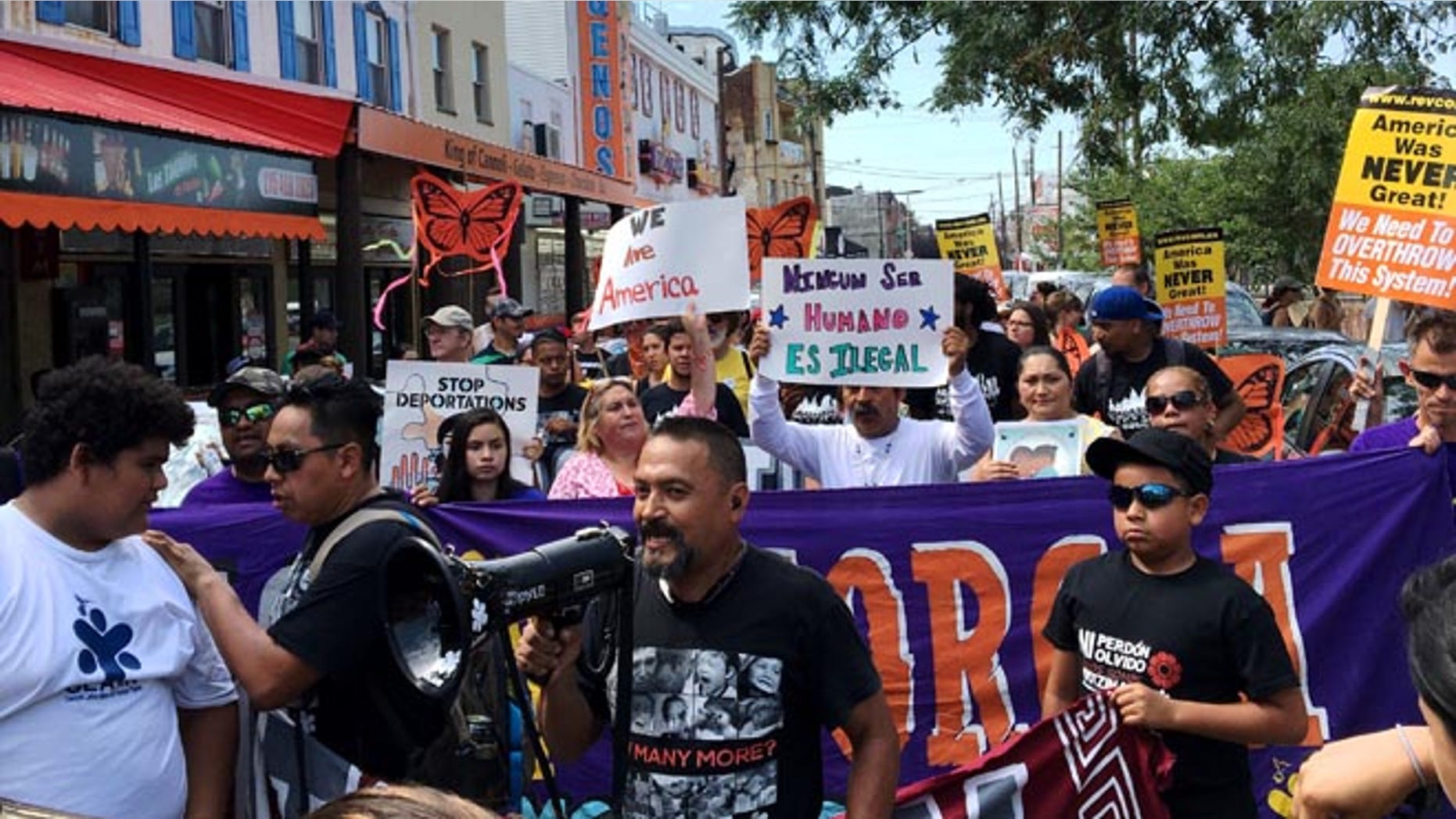 Philadelphia – Alma Lopez, an undocumented immigrant from Mexico who has lived in the U.S. for 13 years, joined hundreds of other protesters Monday afternoon to call for an end to deportations and to demand that family detention centers close.
Lopez walked the sweltering streets of Philadelphia flanked by her three young children as the Democratic National Convention kicked off a few miles away. She held up a sign in Spanish that read "No More Abuses of Women and Children."
But to Lopez, the fight against deportation was personal.
"I've been fighting for over a year to keep my husband in the country," she told Fox News Latino.
Lopez's spouse, Javier, is eligible for a U visa – a humanitarian visa set aside for victims of certain crimes who have suffered mental or physical abuse. But he has been held at Pike Detention Center in northeast Pennsylvania while he waits to see if his visa gets approved.
The detention of her husband has forced her two youngest children to go into therapy, she said, and it has kept Lopez from finding a job because she must take care of her family.
"We're fighting today so that they stop separating families," Lopez said. "This is something that is happening to everyone in the community."
Monday's protest drew activists from as far away as Georgia and Arizona. But one of the most vocal groups at the protest was one fighting for the closure of a family detention outside of Philadelphia.
The Berks County Family Detention Center is one of three facilities in the U.S. operated by Immigration and Customs Enforcement where immigrant families can be housed while they await resolution of their immigration case.
While ICE has said these facilities are not prisons and are more like shelters, many residents of the centers beg to differ. The center in Pennsylvania has been operating without a permit and has drawn criticism from immigration rights groups for housing new families despite the lack of a license.
"The use of family detention is not only breaking Pennsylvania law, it's breaking federal law," Jasmine Rivera, an organizer with the Philadelphia-based Latino rights group Juntos told FNL. "We want to see Berks Detention Center shutdown. We want to see all detention centers shutdown…We want to see an end to criminalizing immigration."
Immigration has been at the forefront of the presidential race this year. And while Republican presidential nominee Donald Trump much heat from immigrant rights groups for his proposed border wall and call to deport 11 million undocumented immigrants in the country, President Barack Obama and the Democrats have not avoided criticism.
Obama won some key battles in the immigration fight – including the implementation of Deferred Action for Childhood Arrivals (DACA), which allows certain undocumented immigrants who entered the country before their 16th birthday to receive a renewable two-year work permit and an exemption from deportation. But his administration has been criticized for failing to pass any form of comprehensive immigration reform in his two terms and for deporting more than 2.5 million people since 2009.
Demonstrators in Philadelphia told FNL that while Trump may be an easy target when it comes to immigration policies, presumptive Democratic nominee Hillary Clinton and her party should not take the Latino vote for granted.
The protest coincided with the opening night of the DNC, where a number of undocumented immigrants will take the stage at the Wells Fargo Center in Philadelphia to support Clinton.
"We want to hold the Democratic Party accountable," Olivia Vazquez, the youth coordinator with Juntos told FNL. "It's not just anti-Trump. We want them to be accountable and see how they are willing to help immigrant communities."