Prospective Parents 'Just Sick About It' After Russia Suspends Adoptions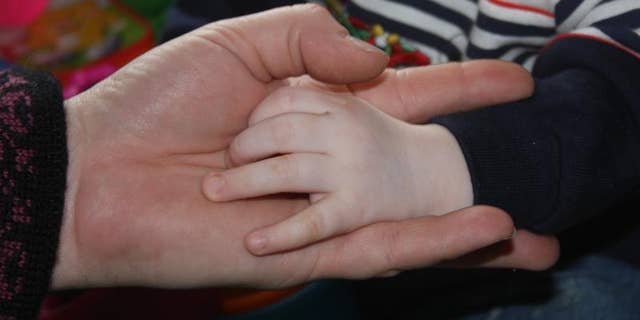 Andrea and Kenneth Wright left St. Petersburg, Russia, last week full of hope that Andrei, the little boy they hope to adopt, would soon call North Carolina his home.
That was before Russian authorities announced that all adoptions by U.S. families will be suspended until the two countries can agree on procedures.
"We're just sick about it," Andrea Wright told FoxNews.com Thursday, after the Russians made their announcement. "I just can't explain to you how saddened I am that they couldn't have handled it in the last four days."
Wright's first visit to Russia to meet Andrei, who will turn 1 later this month, was a "pretty phenomenal experience," she said. But now the hopeful first-time parents, who live in Raleigh, N.C., are unsure when -- or if -- they'll see Andrei again.
"I don't know the answer to that," Wright said. "We would certainly adhere to any new rules to go ahead with this adoption. We're certainly hopeful that the U.S. State Department and the Russian government can make an agreement yesterday. That would've been ideal. We're just hopeful."
Wright and her husband had planned to return to Russia within eight weeks to appear in court as part of their yearlong adoption process.
Thursday's announcement by Russian authorities came one week after a Tennessee woman sent her 7-year-old adopted son back to Russia, on a plane by himself, with a note he carried indicating he had psychological problems.
Russian Foreign Ministry spokesman Andrei Nesterenko said a U.S. delegation will visit Moscow in "the next few days" to discuss international adoptions and a possible bilateral agreement.
"Russia believes that only such an agreement which will contain effective tools for Russian and U.S. officials to monitor the living conditions of adopted Russian children will ensure that recent tragedies in the United States will not be repeated," Nesterenko said in a television briefing.
Mark Toner, a spokesman for the State Department, said officials at the U.S. Embassy in Moscow and State Department officials have been consulting with Russian officials to clarify the matter.
"We've been told there's been no suspension of adoptions," Toner said in a statement. "We look forward to next week's discussions and the opportunity to further clarify these issues of mutual concern."
As of Thursday, no charges had been filed against Terry Hansen, the 33-year-old nurse from Shelbyville, Tenn., who sent Artyom Savelyev back to his homeland, claiming she was misled by his orphanage about his condition.
The number of Russian children adopted in the U.S. has fallen from roughly 4,000 in 2000 to about 1,600 last year, according to figures provided by the State Department.
Prior to Thursday's announcement, Ann Bates, a 39-year-old woman from Bernville, Pa., said she was waiting for a court date to return to Russia for her second of three trips before adopting an 18-month-old boy there.
"Right now, we're kind of in a limbo state," Bates said. "We're hoping the freeze will not affect us. Hopefully, [Russian officials] will understand that [Hansen] is an isolated case."
Bates is also in the middle of a two-year struggle to adopt a 3-year-old girl with special needs from Kyrgyzstan, which is now mired in political revolt. Despite admitting she sees "no end in sight" pertaining to the adoption of either child, Bates remains confident she'll become a mother soon enough.
"My last three years of existence has revolved around giving a child a home and extending my family," Bates said Monday. "I've pretty much put my whole life on hold trying to adopt. And I've got a room ready, I've got clothes for both of the children. It's every minute of every day. When we will be able to love them?"