Prosecutor: Suspect was at apartment where Mexican journalist, 4 others were slain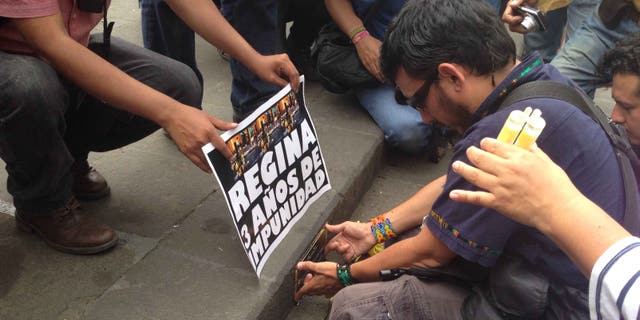 MEXICO CITY – A man suspected in the killings of a Mexican photojournalist and four women has acknowledged being in the apartment where the slayings occurred, Mexico City's top prosecutor said Thursday.
Prosecutor Rodolfo Rios told the Televisa network that the suspect was one of three men whom surveillance cameras recorded leaving the apartment building on Friday.
Rios declined to identify the man, who he said previously served nearly 10 years in prison for rape and causing injuries.
Rios wouldn't say whether the suspect had confessed to the killings.
The victims included Ruben Espinosa, a photojournalist who fled the Gulf Coast state of Veracruz because of intimidation. He was found shot in the head, his body bound and tortured. The attackers also killed his friend, activist Nadia Vera, and two of her roommates — a 19-year-old aspiring makeup artist and a woman from Colombia — as well as their 40-year-old housekeeper.
Rios said investigators had not yet determined the motive in the killings, and that all lines of investigation remained open, including the possibility it could have been related to Espinosa's work.
Exiled from the coastal state where he felt threatened, photojournalist Ruben Espinosa still was on edge in Mexico City.
Friday, 2:13 p.m. was the last time anyone heard from Espinosa, via text message. Investigators say the brutal assaults, murders and ransacking took place sometime between 9 a.m. and 3 p.m.
A neighbor in the next building told the AP he saw one of the victims, the woman believed to be Colombian, on the street at 2:30 p.m. talking normally with one of the men who later entered the building and left.
If so, the killers would have had between 30 and 50 minutes to tie up five people, commit the horrific abuse, shoot them in the head and ransack their belongings, leaving the building less than an hour later, one with a suitcase.
Based on reporting by the Associated Press.