Prosecutor says Costa Concordia captain lied, seeks 26-year sentence for 2012 wreck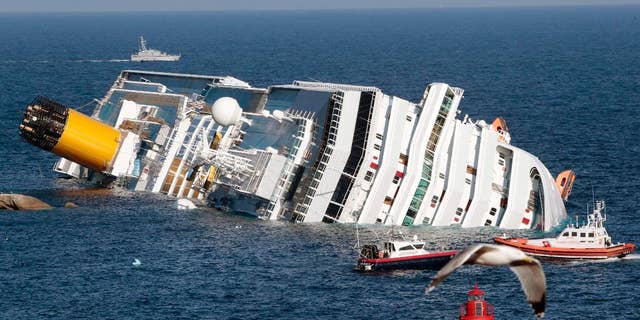 ROME – Prosecutors asked a court to convict the captain of the Costa Concordia and sentence him to 26 years in prison Monday for the 2012 shipwreck off Tuscany that killed 32 people, saying the term is hardly excessive given the death toll.
Prosecutor Maria Navarro also asked the court to detain Capt. Francesco Schettino again and seize his passport and navigation license, saying he is a flight risk. She said the trial had proved that Schettino "thought only and always about himself."
Schettino is being tried for manslaughter, causing the shipwreck and abandoning the Concordia while many passengers and crew members were still aboard. Survivors of the Jan. 13, 2012, wreck described a chaotic and delayed evacuation, with lifeboats unable to lower because the ship was already listing so much.
Schettino has said he saved lives by steering the liner toward shore after it ran aground on rocks that weren't on his charts. He has accused his crew of botching or misunderstanding his orders and has blamed faulty generators and machinery aboard the ship for contributing to the disaster.
In scathing closing statements, Navarro accused Schettino of lying from the start, of never apologizing to the victims and saving his own life "without even getting his shoes wet."
She said the requested sentence, beyond the 20-year maximum speculated, was not "exaggerated" considering Italy's high court recently confirmed a 10-year prison sentence for a car accident that killed four people.
The defense is expected to respond starting Feb. 9, with a verdict expected thereafter.
Schettino was granted house arrest soon after the wreck, and later was allowed to remain in his hometown near Naples during the course of the trial.
Five other Costa Crociere employees who were indicted in the case were allowed to enter plea bargains and none is serving prison time.