Prince William's remark sparks new baby speculation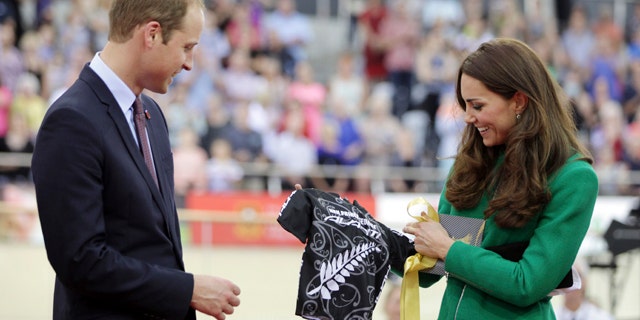 Prince William has sparked a new round of royal baby speculation in the British press by hinting that Prince George might have a younger brother or sister on the way very soon.
The Duke of Cambridge set tongues wagging and computer keys clacking Saturday while greeting members of the public in the small town of Cambridge, New Zealand. When Cynthia Read, an English expatriate, presented William with a shawl commissioned by the New Zealand government for Prince George, the Duke responded by telling the 61-year-old "You might have to make another one soon!"
"The way William said it was like he was dropping a hint, letting me in on a secret," Read told The Daily Telegraph.
The couple's official spokesman has not made any official comment on the remark, but The Telegraph reported that William and Kate have made no secret of their desire to eventually have two children.
The couple's ongoing tour of Australia and New Zealand is their first with their 8-month-old son, who was born last July 22. Given Kate's history of battling morning sickness during her first pregnancy, it's unlikely that doctors would recommend her going on a long overseas trip in the early stages of a pregnancy. However, the Daily Mail noted that Prince George was conceived shortly after the couple visited the Far East in 2012, and it is possible the couple would try to have another child once they return from the Antipodes.
Click for more from the Telegraph
Click for more from the Daily Mail