President Saleh Returns to Yemen 3 Months After Attack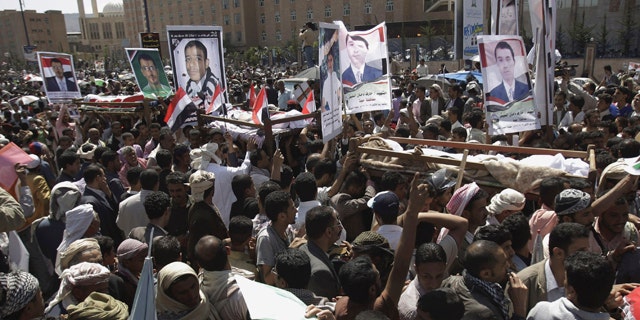 SANAA, Yemen – Yemen's President Ali Abdullah Saleh has called for a cease-fire after returning to the country, saying the only way out of the crisis is through negotiations.
The statement from Saleh's office was the first message since his surprise return on Friday to the country from Saudi Arabia, where he has been for more than three months. Saleh was recovering from wounds sustained in a rocket attack on his compound in Sanaa.
In the message, Saleh is also urging political and military figures to a truce. He insists there is no way out of the crisis except through negotiations and talks to end the bloodshed.
Saleh left Yemen for Saudi Arabia in early June after he was seriously injured in a rocket attack on his presidential compound in the capital Sanaa. His departure fueled hopes that he would be forced to step down, but instead he staunchly refused to resign, frustrating protesters who have been taking to the streets nearly daily since February demanding an end to his 33-year old rule.
Yemen slipped deeper into chaos during his absence, even as the United States and Saudi Arabia pushed him to hand over power. The worst violence yet erupted this week with battles between Saleh loyalists and his armed opponents that have so far killed around 100 people, mostly protesters in Sanaa.
The elite Republican Guards, led by Saleh's son Ahmed, have been engaged in street battles and exchanges of shelling over the city with army units that defected to the opposition and tribal fighters who support the protesters.
The fighting continued even after Saleh returned at dawn Friday. Heavy clashes and thuds of mortars were heard throughout the night in Sanaa and into morning hours. One person was killed overnight after mortars hit the square in central Sanaa where protesters demanding Sale's ouster have been camped out for months, a medical official said on condition of anonymity.
For the protest leaders, Saleh's return bodes ill for the already explosive situation.
"His return means more divisions, more escalation and confrontations," said Abdel-Hadi al-Azizi, a protest leader, told The Associated Press. "We are on a very critical escalation."
The anti-Saleh protesters have called for more rallies after Friday prayers, and a massive turnout is expected despite the latest bout of fighting.
The United States and Saudi Arabia have been trying to dissuade Saleh from returning home in hopes of working out a peaceful handover of power in the impoverished, deeply divided country where both have strong strategic interests.
Washington in particular wants a stable regime in Yemen to fight Al Qaeda's branch in the country, seen as the most active offshoot of the terror network after it plotted several attacks on American soil in recent years. Al Qaeda-linked Islamic militants have already taken advantage of Yemen's turmoil, seizing control of several towns in the near-lawless south.
Saleh was severely burned and suffered other injuries when an explosion went off in a mosque where he was praying in his Sanaa presidential compound on June 3.
From the moment he was rushed to Saudi Arabia for treatment, he and his allies insisted his absence was temporary and that he would return to continue his rule. But even some Yemeni officials had recently predicted he would stay in Saudi Arabia -- and the timing of his return Friday was a surprise.
Yemeni TV announced his return Friday morning, but did not show any footage of him. It aired old footage of Saleh at public events along with images of fireworks and patriotic songs, accompanied by a scroll from the Interior Ministry, urging citizens not to fire celebratory gunfire in the air in their joy over Saleh's return because the shooting was dangerous.
"So long as you are well, we are all well. Yemen is well," one song ran.
The TV report said Saleh was in good health. Officials in his office confirmed that he had returned on a private plane. The TV also said there would be a gathering of his Saleh's supporters later in the day in Sanaa. It was unclear if Saleh would address that rally.
The U.S. and Saudi Arabia have been trying to persuade Saleh to sign onto a deal proposed by Gulf Arab states, under which he would resign and hand power to his vice president to form a national unity government in return for immunity from any prosecution.
The mercurial Saleh has repeated promised to sign the agreement, then refused at the last minute.
The latest violence erupted after he recently delegated his vice president to restart negotiations with opponents on the deal. It was considered another stalling tactic by Saleh, and it was followed by a violent crackdown on protesters in Sanaa and other cities.
The fighting this week has been centered between the forces of Saleh's son Ahmed and the military units of Maj. Gen. Ali Mohsen al-Ahmar, a longtime ally of the president who defected early on in the uprising and sided with the opposition. Many believe al-Ahmar is himself seeking power and he is distrusted by many in the protest movement who believe he would continue an authoritarian regime similar to Saleh's.
Yemen's turmoil began in February as the unrest spreading throughout the Arab world set off largely peaceful protests in this deeply unstable corner of the Arabian Peninsula. Saleh's government responded with a heavy crackdown, with hundreds killed and thousands wounded so far.