President Bashar Assad Claims Military Operations Against Syrian Protesters Have Stopped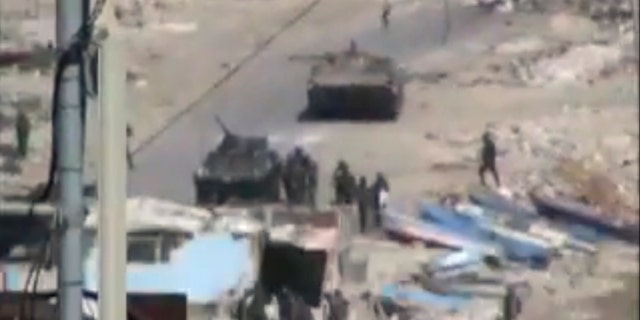 BEIRUT – Syria's President Bashar Assad told U.N. leader Ban Ki-moon Wednesday that military operations against anti-government protesters have "stopped," a U.N. spokesman said, according to AFP.
Assad was responding to a conversation with Secretary-General Ban Ki-moon, who expressed "alarm at the latest reports of continued widespread violations of human rights and excessive use of force by Syrian security forces against civilians" and demanding the immediate end of all military operations and mass arrests, according to a statement issued Wednesday by the U.N.
There have been no reports verifying Assad's claim that military operations have stopped.
With tension rising, the U.N. said it has temporarily withdrawn about two dozen "nonessential" international staff from Syria because of security concerns. U.N. deputy spokesman Farhan Haq also said some family members of U.N. staff have been relocated to other countries.
The government insists its crackdown is aimed at rooting out terrorists fomenting unrest in the country. In comments carried on the state-run news agency, Assad appeared to lash out at the international reproach, saying his country will not give up its "dignity and sovereignty."
Human rights groups and witnesses accuse Syrian troops of firing on largely unarmed protesters and say more than 1,800 civilians have been killed since mid-March.
Turkey's prime minister compared Syria's president to Libya's Moammar Qaddafi, as Damascus defied international calls to end the crackdown on a 5-month-old uprising.
President Bashar Assad has unleashed tanks, ground troops and snipers in an attempt to retake control in rebellious areas. The military assault has escalated dramatically since the start of the holy month of Ramadan in August, killing hundreds and detaining thousands.
"We made our calls (to Qaddafi) but unfortunately we got no result," Turkish Prime Minister Recep Tayyip Erdogan said Wednesday. "The same thing is happening with Syria at the moment."
The conflict in Libya, which began a month before Syria's unrest, has descended into a civil war as Qaddafi defies calls to end the bloodshed.
On Wednesday, Erdogan said he personally spoke to Assad and sent his foreign minister to Damascus, but "despite all of this, they are continuing to strike civilians."
Turkey, a neighbor and former close ally of Syria, has been increasingly frustrated with Damascus' crackdown. But Turkey, Syria's most important trade partner, has not joined the U.S. and Europe in imposing sanctions.
In Latakia, a Mediterranean port city that has been subjected to a four-day military assault, security centers were overflowing with detainees Wednesday, forcing authorities to hold hundreds of other prisoners in the city's main football stadium and a movie theater, said Rami Abdul-Raham, head of the London-based Syrian Observatory for Human Rights.
"Detentions centers are packed," he said.
A woman in Latakia died of her wounds Wednesday, two days after she was injured, according to the observatory and The Local Coordination Committees, another activist group. The LCC said a man was killed in the city late Tuesday.
In the northwestern Idlib province, a bullet killed a man as he stood on his balcony, according to observatory for Human Rights, which has a network of people on the ground. Troops were carrying out raids in the area at the time.
The regime's recent military operations have also targeted the central city of Homs, where security forces shot dead one person and wounded three during raids Wednesday, according to the observatory.
In Damascus, the regime focused its raids on the predominantly Kurdish neighborhood of Rukneddine, where security forces detained dozens after cutting electricity in the area, the observatory said. The neighborhood has witnessed intense anti-regime protests in the past weeks.
Amateur videos posted online showed Syrian soldiers in SUVs and pickup trucks as they drove down a street, apparently in Latakia. The troop were greeted in the al-Ramel neighborhood by Assad supporters chanting "our souls and our blood we sacrifice for you Bashar."
Another video showed a military helicopter flying over the coast.
The Associated Press could not verify the videos. Syria has banned most foreign media and restricted local coverage, making it impossible to get independent confirmation of the events on the ground.
Al-Ramel is home to a crowded Palestinian refugee camp where many low-income Syrians also live. UNRWA, the U.N. agency that aids Palestinian refugees, says thousands of refugees have fled the camp since Assad's forces began shelling the city in an operation that started Saturday.
"We have seen these same reports -- we consider them credible --that Syrian forces fired into the U.N. Relief and Works Agency camp and that it has caused thousands of Palestinians to flee," said U.S. State Department spokeswoman Victoria Nuland, speaking to reporters in Washington. "This just speaks to the brutality and indiscriminate nature of the violence that Assad has unleashed."
UNRWA spokesman Chris Gunness said Wednesday the agency was providing assistance to about 2,000 displaced people at a temporary office outside the camp.
Tunisia's foreign ministry said Wednesday it has recalled its ambassador to Syria because of the "dangerous" developments in the country. Saudi Arabia, Kuwait and Bahrain also have recalled their ambassadors as Arab states joined the chorus of condemnation in recent weeks.
The foreign ministers of Turkey and Jordan renewed their call on Damascus to immediately end its crackdown.
In a joint news conference held on the sidelines of an Islamic nations' meeting to discuss famine in Somalia, Turkish Foreign Minister Ahmet Davutoglu said: "The bloodshed must stop, all soldiers must be withdrawn from the cities and life in these cities must return to normal."
The Associated Press contributed to this report.