Powerful Russian missile system arrives in Iran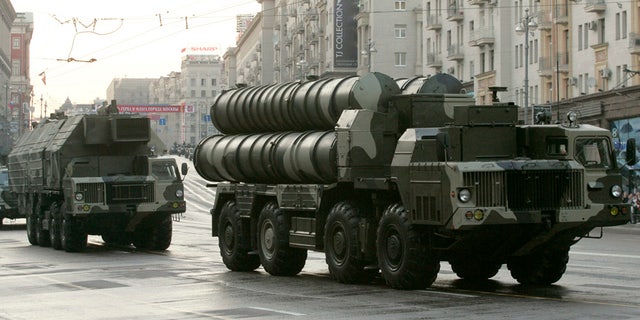 NEWYou can now listen to Fox News articles!
From Putin, with love.
Iran's defense minister Tuesday announced that Russia delivered a powerful S-300 air-defense missile system to the Khatam al-Anbiya base as part of an arms deal revived after the Islamic Republic reached a framework nuclear agreement with world powers last year, The Washington Post reported.
Russian officials said that they planned to deliver at least four more of the missile systems – which are compared to the U.S. Patriot surface-to-air missile system – by the end of the year, the newspaper added.
"It's a sophisticated piece of military apparatus," State Department Spokeswoman Elizabeth Trudeau said, adding that the U.S. objected to the sale though it didn't violate U.N. Security Council resolutions. "We've made our concerns known for quite some time on this particular piece of equipment."
The missile system has a range of 120 miles and can target aircraft or ballistic missiles up to a medium range, the Post reports. The delivery is part of a $800 million contract signed between Russia and Iran in 2007. Moscow had stopped transferring the missile systems in 2010 after protests from Israel and the U.S.
Russian Foreign Minister Sergei Lavrov said in July, after the framework deal was signed over Iran's nuclear program, that there was "no longer any need for this kind of embargo."
Click for more from The Washington Post.