Portugal foreign minister wants close future ties with UK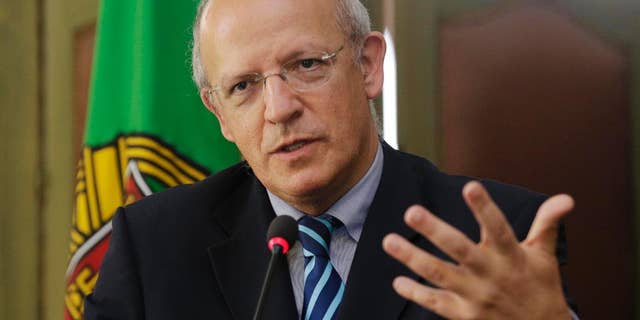 LISBON, Portugal – The European Union should seek a close trade and defense relationship with Britain after it leaves the bloc, with the scope of any agreement limited only by London's approach to EU rules on the movement of goods and people, Portugal's foreign minister says.
"We want a trade and economic agreement with the U.K. that is as intense, as robust, as possible. We want the U.K. as the protagonist of security in Europe, like it is today," Foreign Minister Augusto Santos Silva said. "We can't play around with these very important issues."
Britain has said it plans to impose immigration controls on people coming to Britain from the other 27 EU member countries after it leaves, thereby abandoning the bloc's bedrock principle of free movement. Prime Minister Theresa May intends to trigger exit talks by the end of next month.
The question of what happens to EU citizens already living in the U.K., and of British citizens living in other EU countries, is crucial for Portugal and can be resolved before full Brexit talks begin, Santos Silva said in an interview with The Associated Press late Thursday.
"Our goal is for it to be made clear that the rights of EU citizens living in the U.K. up to the U.K.'s departure stay the same, and for there to be an agreement, too, on the conditions of U.K. citizens in the EU," he said.
May said last month her country wanted to attract "the brightest and the best" to work and study in the U.K., suggesting the door would be open for some EU citizens in the future. An estimated 400,000 Portuguese live in Britain.
"We have to find an agreement that ensures maximum possible free circulation within the limits that the British authorities want to establish," Santos Silva said at his office in Lisbon's 18th-century Palacio das Necessidades, which houses the Portuguese foreign ministry.
At the same time, the EU must insist on reciprocity, according to Santos Silva. "The limits that Britain sets on European goods and people will be exactly the same limits as Europe sets on British people and goods," he said.
While acknowledging the future relationship won't be better than the current one, Santos Silva said he didn't want to punish the U.K. for leaving the bloc, nor encourage hostility toward London.
Santos Silva emphasized that the EU wanted to keep counting on Britain's defense capabilities through their joint membership of NATO.
"For us it is very important that the U.K.'s exit from the EU does not mean it is leaving Europe, that the U.K. stays as the second biggest pillar of Atlantic defense" after the United States, he said.