Pope Removes Catholic Bishop In Peru After Allegations Of Abuse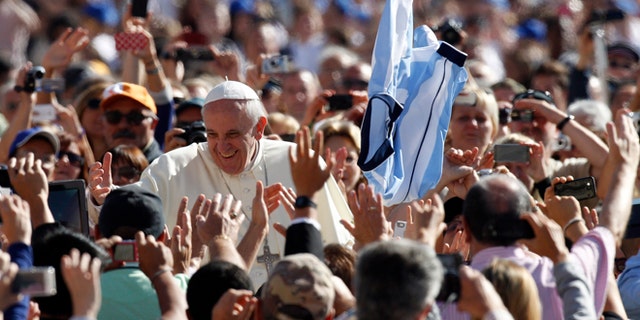 Lima, Peru – A Roman Catholic bishop in Peru was removed by Pope Francis amid allegations he sexually abused minors.
Gabino Miranda, 53, was removed as part of the new pope's "zero tolerance" policy against abuse, the Rev. Luis Bambaren, the retired former Peruvian bishops' conference chief, told reporters on Friday.
Miranda is only the second bishop known to have been removed in recent times by the Vatican over sex abuse allegations.
The Rev. Percy Quispe, spokesman for the archdiocese of Ayacucho where Miranda was assigned, confirmed his removal to The Associated Press on Saturday.
He said Miranda departed in July but did not specify the reason.
Miranda had since 2007 led the youth ministry of Peru's bishops' commission. He was a close associate of the powerful Cardinal Juan Cipriani of Lima, sharing membership in the conservative Opus Dei organization.
The regional prosecutor's office said in a statement Friday that an investigation had been opened into Miranda but did not specify the subject.
Cipriani expressed displeasure with Bambaren on Saturday in a radio interview from the Vatican, where he was to meet with the pope on Monday. "I don't think it's in good taste for a retired bishop to have made an accusation that is somewhat exaggerated or at the very least strong."
Bambaren, an 85-year-old Jesuit, did not return AP phone calls seeking comment and Quispe said the archbishop of Ayacucho, Miranda's former superior, was traveling abroad and could not be reached.
The Vatican also did not respond to AP requests for comment on the case.
Opus Dei issued a statement on Friday saying that Miranda "denied any crime having to do with minors" but said it had very little information about his situation. Attempts to reach Opus Dei officials to try to determine Miranda's whereabouts were unsuccessful.
Miranda had spent his career in Peru's Quechua-speaking southern Andes.
Earlier this month, the Vatican confirmed that its ambassador to the Dominican Republic, Jozef Wesolowski, had been recalled and removed from his job amid a Vatican and Dominican investigation into allegations of abuse.
For decades, bishops have been virtually untouchable when it comes to Vatican discipline as they function very much as kings in their own diocesan fiefdoms.
The most prominent bishop to have been removed for alleged abuse was the archbishop of Vienna, Hans Hermann Groer, two decades ago.
Based on reporting by the Associated Press.
Follow us on twitter.com/foxnewslatino
Like us at facebook.com/foxnewslatino