Pope praises Armenia's Christian past, but avoids 'genocide'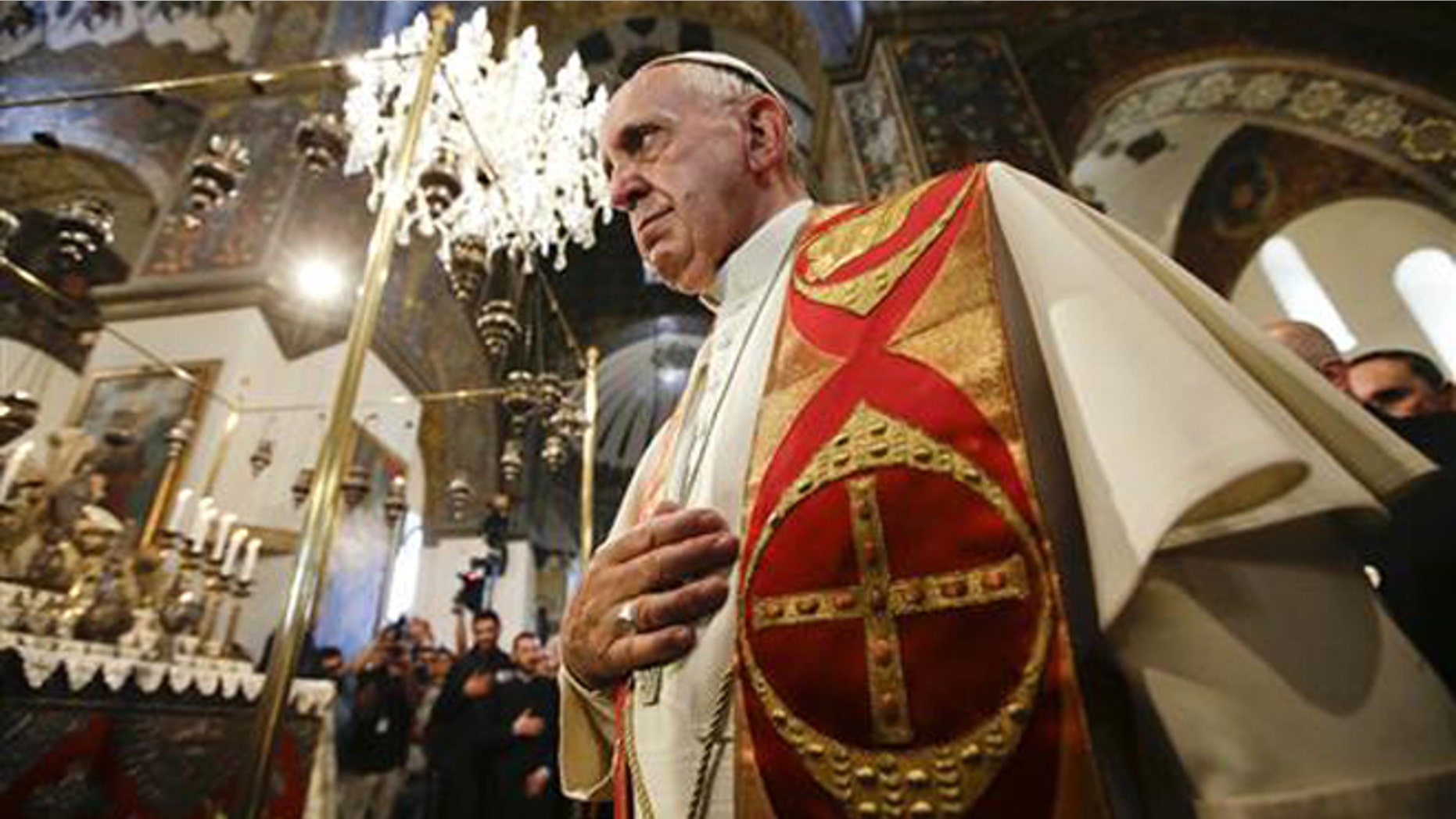 YEREVAN, Armenia – Pope Francis hailed Armenia's steadfast Christian heritage on Friday as he arrived in the former Soviet republic for a three-day visit to commemorate the centenary of the Ottoman-era slaughter of Armenians that the pope himself has called a "genocide."
In a largely Orthodox land where Catholics are a minority, Armenians seemed genuinely honored to welcome a pope who has long championed the Armenian cause from his time as an archbishop in Argentina and now as leader of the 1.2-billion strong Catholic Church.
Small groups of residents lined his motorcade route, and a gaggle of schoolchildren wearing white T-shirts and yellow neckerchiefs -- the colors of the Vatican flag -- greeted him at the airport with a big banner written in Italian: "Armenia Welcomes Pope Francis."
"I shook the pope's hand but didn't have the time to kiss it," 42-year-old Yerevan resident Nazik Sargsyan said. "I'm sure God's blessing has come down on me with that handshake."
In his initial remarks in the ornate Armenian Apostolic Church in Etchmiadzin, Francis didn't use the politically charged term "genocide" but instead spoke of the "holy sign of martyrdom" of Armenians who died at the hands of Ottoman Turks starting in 1915.
With the Apostolic patriarch Karekin II by his side, Francis praised Armenia for becoming the first nation to declare Christianity the state religion in 301 and for keeping alive the "light of faith" even in its darkest times. He urged all Christians to unite to prevent religion from being exploited and manipulated today, an apparent reference to the current-day Islamic extremist attacks on Christians in the Middle East.
"For Armenia, faith in Christ has not been like a garment to be donned or doffed as circumstances or convenience dictate, but an essential part of its identity, a gift of immense significance, to be accepted with joy, preserved with great effort and strength, even at the cost of life itself," he said.
The Vatican has long cheered the Armenian cause, holding up the poor nation of 3 million mostly Orthodox Christians as a bastion of faith and martyrdom in a largely Muslim region.
President Serzh Sargsyan, Karekin and a handful of other officials greeted Francis on the tarmac of the Yerevan airport in a low-scale welcome ceremony. As a girls' choir serenaded, pope, patriarch and president then walked behind a goose-stepping military official along a red carpet into the airport's VIP lounge before heading to Echmiadzin, the seat of the Oriental Orthodox church where Francis will stay as a guest of Karekin.
Later Friday, Francis will deliver his first major speech to Armenia's president, political leaders and diplomatic corps.