Pope Meets With Freed Sex Slaves, Church Workers, Police Chiefs About Sex Trade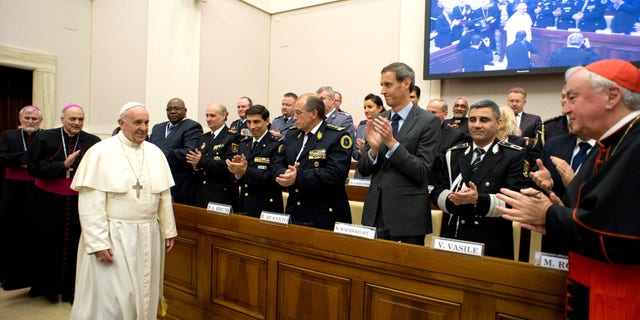 VATICAN CITY (AP) – Pope Francis denounced human trafficking as a crime against humanity Thursday after meeting with four women who were forced into prostitution.
Francis attended a Vatican conference of church workers, charity representatives and police chiefs from Interpol, Europol and 20 nations, who pledged greater cooperation to prevent trafficking and to encourage its victims to come forward.
"Human trafficking is an open wound on the body of contemporary society, a scourge upon the body of Christ," Francis said. "It is a crime against humanity."
The pope met privately with freed sex slaves from his native Argentina, Chile, Hungary and the Czech Republic. Three of them addressed the conference, which issued a final statement pledging to develop strategies to do more to prevent trafficking, care for victims and help them reintegrate into society once freed.
"Our strategy must work across all borders, languages cultures and religious beliefs," Interpol's secretary general, Ronald Noble, told the group. "The 'merchants' do not care about these differences, indeed they thrive on them, as they have done for years."
Attending were police chiefs from countries where women are routinely trafficked for sex such as Nigeria, Romania, Poland and Albania.
Francis has made combating human trafficking and slavery a priority of his papacy. The Vatican recently joined forces with the Anglican Church and Al-Azhar university, the world's foremost institution of Sunni learning, in an anti-slavery initiative.
Yet only about 1 percent of all trafficking victims denounce their smugglers to police and seek assistance, said Bernard Hogan-Howe, the metropolitan police commissioner of London which has formed a partnership with the Westminster archdiocese to care for victims. Many victims fear coming forward, thinking they will be judged, deported or prosecuted when in fact law enforcement and the church want to offer them a "sanctuary," he said.
The conference, dubbed the "Santa Marta Group" after Francis' Vatican hotel where participants stayed, meets again in London in November.
Follow us on twitter.com/foxnewslatino
Like us at facebook.com/foxnewslatino