Pope Francis says Christians can promote political dialogue in Europe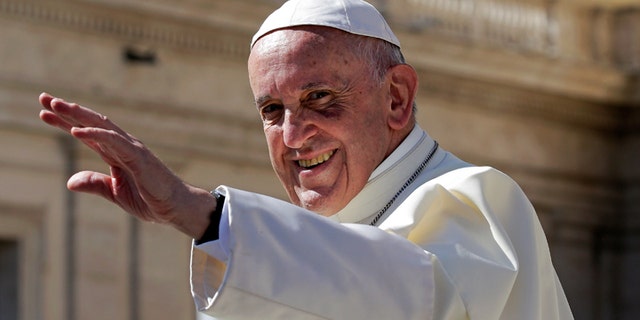 NEWYou can now listen to Fox News articles!
VATICAN CITY – Pope Francis on Saturday said Christians can play a role in shaping Europe's future by promoting political dialogue "especially where it is threatened and where conflict seems to prevail."
Francis addressed European political and church leaders at a moment of broad political crises in Europe. It came a day after the regional parliament in Catalonia made a unilateral declaration of independence from Spain, and as Britain negotiates its exit from the European Union after four decades.
Francis' fifth foreign policy speech on Europe, titled "To be the soul of Europe," was made to a forum on Europe organized by the Commission of the Bishops' Conferences of the European Community.
Pointedly, Francis said politics, rather than promoting dialogue as it should, "is becoming instead a forum for clashes between opposing forces. The voice of dialogue is replaced by shouted claims and demands."
"The voice of dialogue is replaced by shouted claims and demands."
"Extremist and populist groups are finding fertile ground in many countries; they make protest the heart of their political message, without offering the alternative of a constructive political project," the pope said.
In his speech, the pope returned to frequent themes, telling leaders they should welcome and help integrate migrants within a regulated process, strive for solidarity especially with younger people, many of whom "are lost without roots or prospects," and help create economic opportunities.
The pontiff said that political leaders must promote Europe as "an inclusive community," where differences are "valued and viewed as a shared source of enrichment. Seen in this way, migrants are more a resource than a burden."
The pope outlined how Christians can contribute to resolving political conflict by underlining that Europe is not just institutions and statistics "but made up of people," by helping recover a sense of community and by promoting political dialogue.
"Sadly, we see how frequently issues get reduced to discussions about numbers," the pope said. "There are no citizens, only votes. There are no migrants, only quotas. There are no workers, only economic markers. There are no poor, only thresholds of poverty."
He said religion can play a positive role by promoting dialogue, and he called on them "to restore dignity to politics and to view politics as a lofty service to the common good, not a platform for power."