Pope Francis 'Deeply Pained' After Three Members Of His Family, Including An Infant, Killed In Car Crash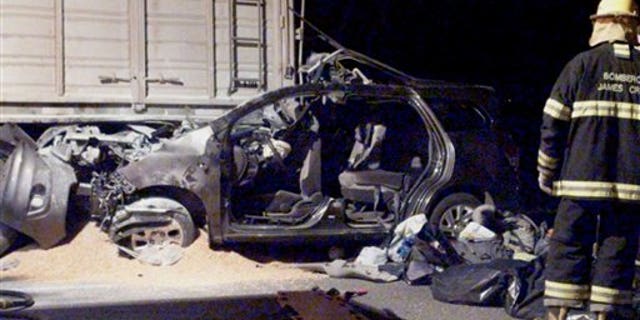 Three members of Pope Francis' family died and another was seriously injured in a car crash in Argentina early Tuesday morning.
A truck struck the car of the Pope's nephew, Emanuel Horacio Bergoglio, on a highway in the central Argentinian city of Cordoba at about 12:30 a.m. – killing Bergoglio's wife, Valeria Carmona, 36, and their two children José Bergoglio, 8 months, and Antonio Bergoglio, 2, Cordoba police spokeswoman Carina Ferreyra said.
Emanuel Bergoglio was taken to a hospital in Cordoba, where he was in critical condition Tuesday morning, police said.
Vatican spokesman the Rev. Federico Lombardi said that Pope Francis "was informed about the tragic accident. He is deeply pained." He added the pope asks "all who share in his grief to unite with him in prayer."
Photos of the accident taken by Argentinian media show the family's black car crushed behind the tractor trailer, tires blown out and the metal frame of the truck having torn through the car's engine and into the back seat.
"When we arrived at the accident with a vehicle rammed into the back of the trailer, it was embedded under the trailer," Gustavo Ponce de Leon, the fire chief who responded to the accident, told La Nación.
The family was purportedly returning back to Buenos Aires after spending a long weekend in Cordoba.
The driver of the truck, 60-year old Raúl Pombo, was unhurt in the accident. He said he was hit from behind and thrown onto the shoulder of the road when he saw that Bergoglio's car was on fire.
"I felt the impact, looked in the mirror and when I was thrown on the shoulder the car was under the truck," Pombo said. "I don't know what happened."
The Associated Press contributed to this report.
Follow us on twitter.com/foxnewslatino
Like us at facebook.com/foxnewslatino