Politics is a fishy business: Pakistani lawmaker holds political rally at sea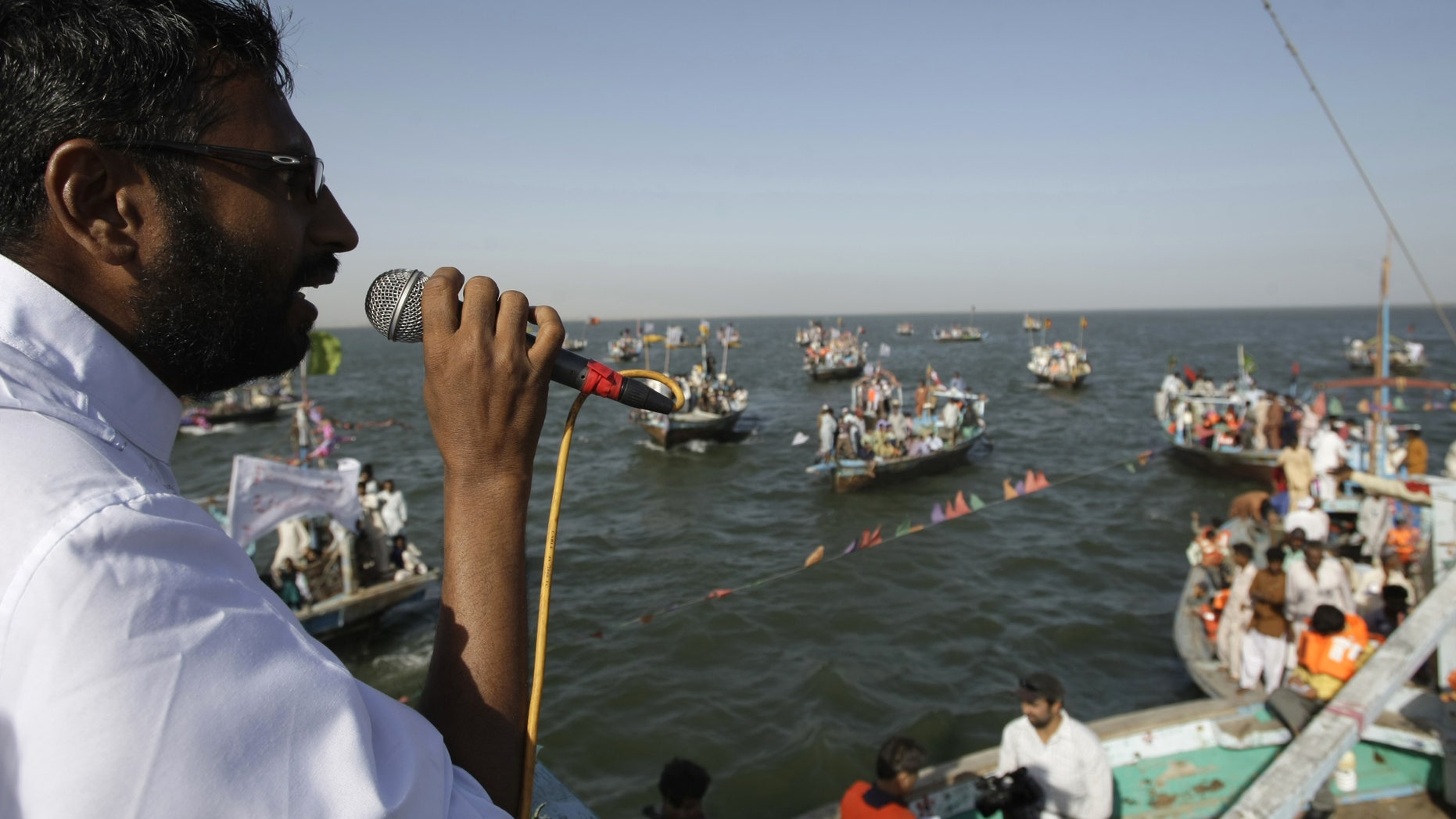 KARACHI, Pakistan – Wearing life jackets and bobbing on the gentle waves of the Arabian Sea, supporters of a candidate in Pakistan's upcoming nationwide election held a waterborne rally to highlight the challenges faced by their embattled fishing community.
Backers of independent political candidate Haji Usman Ghani took to the water Friday on a flotilla of fishing boats. He is contesting May 11 elections for the Sindh provincial assembly from a constituency near the southern port of Karachi, Pakistan's largest city, and many of his prospective voters work in the fishing industry on the nearby coast.
Dozens of boats filled with his supporters left the harbor and went into the Arabian Sea with flags flying.
Supporters did not let their cumbersome life jackets get in the way of the festive atmosphere, and danced and chanted slogans to show their support for Ghani.
But the candidate had a serious message. Ghani, who's been a social activist in the area for years, promised to improve the education system and provide clean drinking water to his constituency if elected.
"Our children don't get an education. We were forced to use contaminated water...There are no teachers in schools and colleges of the area. That is why I had to come forward and contest elections to get our problems solved. We supported and followed others for long, but no more. We will solve our problems ourselves," Ghani said.
Many people who took one of the roughly 50 boats taking part in the flotilla complained that the government has done little to help the fishing community.
Fishermen are often caught up in a tit-for-tat war on the water with Indian authorities who arrest Pakistanis after they allegedly cross into Indian territory. Pakistan does the same. The fishermen in both countries often languish in jail for months. According to members of the fishing community around 170 Pakistani fishermen are currently being held in India.
"The government has done nothing for the industry and the fishermen," Ali Mohammad, a supporter of Ghani.
It's unclear whether Ghani has much of a chance of winning the seat, which is currently held by a member of the Pakistan People's Party. The PPP is one of Pakistan's strongest political parties. It was the largest party in the ruling coalition of the previous national government and controls the provincial assembly as well.
The May 11 vote will mark the first time that a democratically elected civilian government has finished a full term and handed over power to another such government in Pakistan.