Polish journalist in Venezuela tormented, viciously beaten by government 'death squad,' his employer says
In another example of Venezuela's increasingly brazen attacks on journalists, national police reportedly forced a Polish reporter from his car and viciously beat him.
The reporter, who was not arrested, was left lying in the street, according to multiple reports, including from the reporter's newspaper in Poland and the Venezuelan Press Workers' Union.
A photo of Tomasz Surdel's bloody, swollen face was posted on Twitter after the attack, which occurred late last week.
He suffered a broken nose, cuts and other injuries, according to his newspaper, Gazeta Wyborcza.
Gazeta Wyborcza posted a message from Surdel on its website saying: "My lips are so swollen that I cannot speak."
Surdel said that members of the National Police Special Forces, clad in all-black and known in Venezuela as "the death squad," stopped him as he was driving in Caracas.
"They asked for documents," he said. "For several minutes, they spoke with someone on the radio about what to do with me. In the end, they told me to get out of the car. They said they had a few questions."
PHOTOS EMERGE SHOWING VENEZUELA'S 'DEATH SQUAD' WITH LIFELESS BODIES 
They allegedly never asked questions, and instead put a hood over Surdel's head and pummeled him, according to his account to the newspaper.
"They beat me with something hard, probably with (pistol) butts, mainly on the face," he said. "I also got a few strong blows on the rib. When they finished and pulled off the hood, I saw the muzzle of the gun in front of my eyes."
The Committee to Protect Journalists (CPJ), as well as other rights groups, denounced the assault and is demanding an investigation.
Surdel's newspaper said on its website that the Venezuelan Embassy in Warsaw has complained to it about the reporter's stories about President Nicolas Maduro and the country's worsening financial, social and political problems.
"We are alarmed at the depth and pace of increasing violence and hostility to journalists working in Venezuela, and are gravely concerned about their safety," said CPJ Central and South America Program Coordinator Natalie Southwick in New York. "Venezuelan authorities should immediately investigate the targeted assault on Tomasz Surdel and identify those responsible."
CPJ told Fox News on Tuesday that Surdel is believed to be in Venezuela healing from his injuries, but added it is not certain that he remains in the country.
Venezuela is gripped by a humanitarian crisis that is expected to worsen as U.S. oil sanctions designed to put more pressure on Maduro take their toll.  Venezuela's population is enduring hyperinflation and a scarcity of medicine and other necessities that the opposition blames on the administration's socialist policies.
More than three million Venezuelans have fled the country in recent years, about one-third of them finding refuge in Colombia.
About 1,000 members of the Venezuelan security forces have fled to Colombia since last month, giving up weapons and uniforms as they abandoned the Maduro government, Colombian authorities said Monday.
The downward spiral of Venezuela has prompted Venezuelans to take to the streets in mass protests. That, in turn, had led to a crackdown on political opponents and both domestic and foreign journalists. Since January, more than 40 deaths – many of which occurred during the mass protests against Maduro - have been linked to the National Police "death squad," which uses military weapons. The squad is known as the FAES —the Spanish acronym for the Bolivarian National Police's Special Action Forces.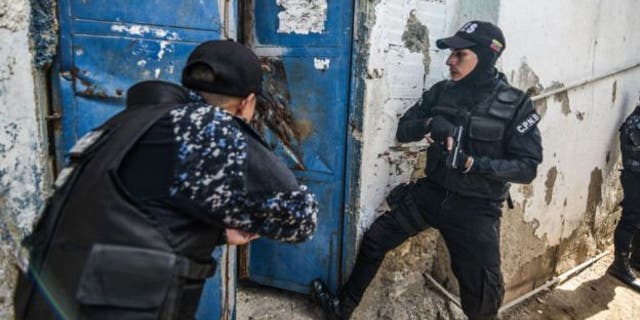 Over the weekend, Germany's foreign ministry said that a German freelance journalist freed in Venezuela months after he was jailed as a suspected spy was on his way home.
CLICK HERE TO GET THE FOX NEWS APP
A Caracas court ordered the conditional release of Billy Six on Friday. Six was ordered to report to the court every 15 days and not to speak to media. He wasn't deported but was allowed to leave Venezuela if he chose. German authorities said Sunday he flew out of the Caracas airport, but didn't give further details.
Six had been charged with espionage, accusations his relatives rejected as trumped-up.
His release followed the arrest and deportation earlier this month of U.S. freelance journalist Cody Weddle. Univision's Jorge Ramos was also deported with his team in late February after President Nicolas Maduro abruptly ended an interview.
The Associated Press contributed to this report.