Police report a new riot in Brazil prison where 26 were slaughtered over weekend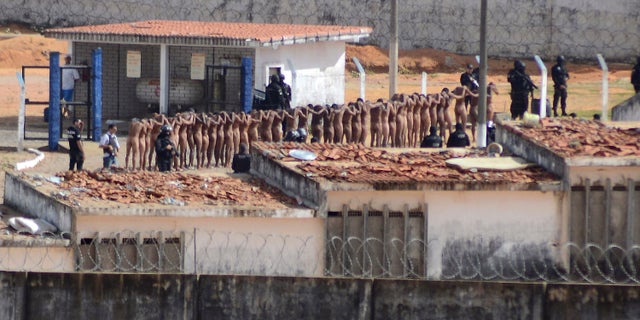 NEWYou can now listen to Fox News articles!
Just hours after a deadly riot at a Brazilian prison was contained, authorities are reporting a new uprising Monday involving rival gangs of prisoners, Reuters is reporting.
The new riot broke out at the same prison where 26 inmates were killed over the weekend, authorities told Reuters.
"A SWAT team is there at this exact moment. Our men are entering the prison now to get control of the situation," said to Reuters Eduardo Franco, head of communications for police in the state of Rio Grande do Norte, where the Alcaçuz prison is located.
It is the fourth prison riot in the country's isolated northeast since the start of year. At least 140 inmates have died so far.
Many of the dead had been hastily thrown into graves dug within the prison complex by other inmates and their bodies are only now being found by authorities.
Many of the dead were beheaded and dismembered.
The deadly violence is the result of a split between the two most powerful drug gangs in the country, the First Capital Command (PCC) and the Red Command.
The Alcaçuz state penitentiary has a capacity of 620 but currently houses 1,150 inmates, the Justice Secretariat said.
The recent string of prison violence began on Jan. 1-2, when 56 inmates were killed in the northern state of Amazonas. Many of the dead were beheaded and dismembered.
Then on Jan. 6, in the neighboring state of Roraima, 33 prisoners were killed, many with their hearts and intestines ripped out.
The riots in the Alcaçuz prison started on Saturday evening; police said they regained control the next day, after a 14-hour siege.
EFE contributed to this report.