Police in Spain arrest 7 suspected art thieves for Francis Bacon heist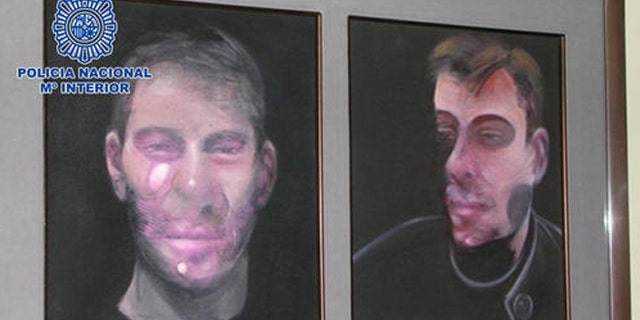 MADRID (AP) – Seven people suspected of being involved in stealing five paintings by the Irish-born painter Francis Bacon worth more than 25 million euros ($27.8 million) have been arrested, Spanish police said Saturday.
The owner of the artworks reported the thefts of the paintings and other valuables in July after returning from a visit to London, police said. None of the paintings had been recovered and the investigation was continuing, police said.
A breakthrough came in February, when investigators received an email from a British firm specializing in art that had received a request for it to verify the provenance of some art.
The person who contacted the firm lived in the northern seaside city of Sitges, police said, and had included photographs of canvases purporting to be by Bacon. The person asked the experts if the works were listed as stolen.
Signatures that looked like Bacon's appeared on the reverse of the paintings, which made the experts suspect they could have been added, the statement said.
An examination of the photographs' metadata revealed the type of camera used and that it was rented, clues that enabled police to identify the sender and uncover links to a Madrid-based art dealer and the dealer's son. The other suspects also received the photographs and were arrested on suspicion of being accomplices and of conspiring to conceal the facts, police said.
Saturday's statement did not say when the arrests were made and did not disclose the names of the suspects.
The heist appears to have been professionally planned. The paintings were part of a collection owned by a close friend of Bacon who lived in an apartment close to Spain's Senate, a heavily policed neighborhood, the Spanish newspaper El Pais said, citing unidentified sources close to the investigation.
Bacon often visited Madrid, where he spent time studying old master paintings in the Prado Museum. He died in the city in 1992 at age 82.
Like us on Facebook
Follow us on Twitter & Instagram