Police Chief In Town With Past Ethnic Strife Wants To Build Bridge With Latino Community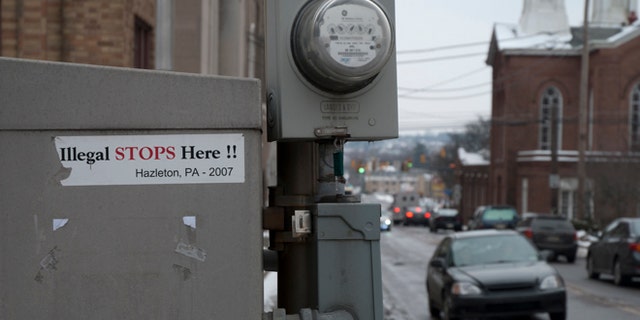 After years of being labeled as the place that started the country's thorny immigration debate and the poster child for the immigration-crackdown laws that have taken off in places as far off as Alabama and Arizona, the police chief of the small Pennsylvania town of Hazleton is trying to repair the damage done.
Hazleton Police Chief Frank DeAndrea has been making the rounds of luncheons, worship services and crime watch meetings to put a more friendly face on the town's oft-maligned police force. Handing out his cellphone number and telling people to call anytime, DeAndrea hopes that being a more visible face in the town's Latino community will make people more willing to come forward to give information and help his officers solve a string of violent crimes that has plagued Hazleton recently.
"I embrace that," DeAndrea recently told the Standard Speaker newspaper. "If people feel I'm approachable, then they think my sergeants and lieutenants and patrolmen are approachable."
According to the 2010 Census, 37.3 percent of Hazleton's residents are Latino, but DeAndrea estimates that the town's population is now half Hispanic and he's making it a priority to bridge the palpable wide gap between Latinos and the mostly white police force.
"We may never have 20 cops who speak Spanish, but we have half the community that speaks Spanish," he said.
While overcoming barriers such as language, immigration status and apprehension about law enforcement that immigrants carry from their experience at home is an issue for Hazleton police, DeAndrea said the bigger mission involves helping the white and Latino communities to consider themselves as neighbors.
"Everybody needs to recognize the only way for us to succeed is to become one," he said
The new wave of Hazleton immigrants around the turn of last decade – mainly from the Dominican Republic, Mexico and Peru – helped to revitalize the economy of the failing northeastern Pennsylvania town, but it also coincided with a slight rise in crime that had some long-term resident blaming the new arrivals.
Undocumented immigrants were the top suspects in a brazen murder and a vicious rape of a 6-year old girl in 2006 and while the murder charge was eventually dropped by the Luzerne County District Attorney for lack of evidence, Hazleton's undermanned police force – the town currently has 36 officers on patrol still struggles with the new immigrants due in large part to the difficulty tracking them down if they evade arrest.
It didn't help much to lower tensions when, in 2006, then-Mayor Lou Barletta introduced the Illegal Immigration Relief Act, a city ordinance that barred landlords from renting apartments to undocumented immigrants and business owners from hiring them.
The law was ruled unconstitutional and while current Hazleton Mayor Joseph Yannuzzi said he planned to appeal a ruling made by the Third Circuit Court of Appeals, the eight-year case ended when the U.S. Supreme Court declined to hear the city's appeal on March 3.
Despite the tough atmosphere for immigrants in Hazleton, they haven't stopped moving to the town and DeAndrea said that it's now time for the town began to acknowledge the ruling and start working with the Latino community.
"We're trying to heal wounds and move forward," he said.
Follow us on twitter.com/foxnewslatino
Like us at facebook.com/foxnewslatino