Philippine President Duterte calls Oxford 'school for stupid people'
Philippine President Rodrigo Duterte lashed out at Oxford University on Monday after the school published a study saying the bombastic leader paid for an army of so-called social media "trolls."
Duterte called the renowned British institution a "school for stupid people" in reaction to findings presented in the university's study "Troops, Trolls and Troublemakers: A Global Inventory of Organized Social Media Manipulation," Rappler reported.
"I spent 10 million [pesos]? Me? Maybe in the election…They were all during the campaign," Duterte said at a Monday press conference, the Manila Times reported.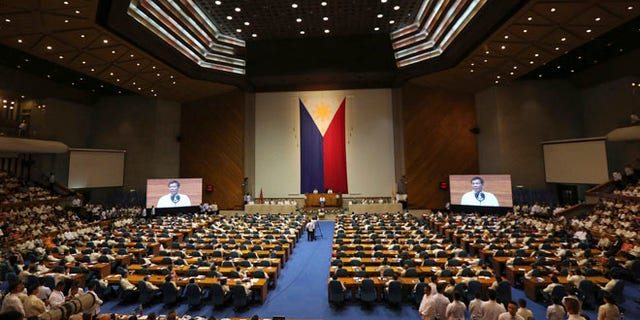 The Oxford study investigated organized social media manipulation and looked at the strategies of different political parties and candidates in 28 countries -- a number of which, Oxford concluded, used bots to spread party messaging and inflate social media engagement numbers.
MILITANT SIEGE, DRUG KILLINGS MARK DUTERTE'S FIRST YEAR IN OFFICE
Duterte, a former mayor, won with a populist message that targeted drug trafficking. However, his support for the extra-judicial killing of suspected drug dealers has drawn criticism from human rights observers.