Peru's 'El Chapo,' wanted for 101 killings, deported from Colombia following arrest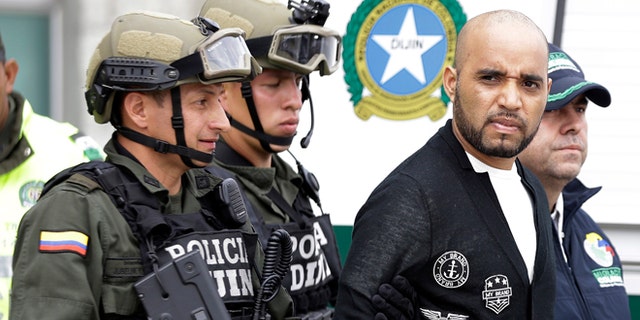 NEWYou can now listen to Fox News articles!
Colombian police captured an alleged drug lord who is Peru's most-wanted criminal after he decided to make a trip to an upscale shopping mall.
Gerson Galvez, or alias "Caracol," was arrested Saturday at a Medellín shopping center and expelled to Peru less than 24 hours later because he lacked migration papers, authorities said.
Peruvian officials said Galvez was first spotted in March in Ecuador and his movements had been tracked since then in Panama and Colombia. The final phase of the joint investigation took place Friday when the head of Colombia's police, Gen. Jorge Nieto, returned from a law enforcement conference in Peru in which he obtained new leads about the 34-year-old's whereabouts.
Dubbed by Peruvian media as the new "El Chapo," in reference to Mexican drug lord Joaquín Guzmán, Galvez is wanted in connection with 101 slayings in Peru, where he is also alleged to have managed large shipments of cocaine from the nation's main seaport in Callao.
Galvez is considered highly violent, the reason why the head of Peru's police, Gen. Vicente Romero, came personally to Bogota to oversee his deportation. Peruvian authorities had been offering a $150,000 reward for information leading to his arrest — the largest bounty offered against any Peruvian criminal.
Among his many alleged crimes is the 2015 attempted murder of a rival who was attacked while driving by a curtain of gunfire and two grenades. He is also believed to have threatened prosecutors and used his Barrio Kings gang to extort businesses in Callao.
"I have the right to be presumed innocent," Galvez shouted to journalists as he was handed over to Peruvian authorities in handcuffs and wearing a bulletproof vest.
It was not clear what he was doing in Medellín, but authorities said he might have been trying to meet with partners in the Office of Envigado crime syndicate or to arrange a furtive visit with his Venezuelan girlfriend. Colombian police said he owned a luxury apartment in the city's upscale El Poblado neighborhood.
The U.S. government says Peru is the world's largest producer of cocaine.
Based on reporting by The Associated Press.