Passengers safe after Turkish Airlines plane skids off runway in Nepal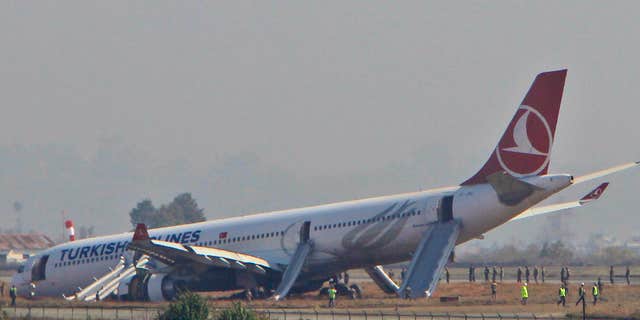 KATHMANDU, Nepal – A Turkish Airlines jet landing in dense fog in the Nepalese capital Wednesday skidded off a slippery runway but there were no serious injuries, officials said.
Officials at Kathmandu's Tribhuwan International Airport said the plane with 238 people on board was coming from Istanbul when the accident happened.
They say passengers had bumps and bruises but no serious injuries.
The runway was slippery after two days of rain and there was dense fog at the time. The plane was stuck in the grass and there was some damage to the front of the Airbus 330.
The plane on a seven-hour flight circled for half hour over Nepal before it made a second attempt to land.
The only international airport in Nepal remained closed Wednesday morning after the accident.