Pasco police officer who took part in farmworker's fatal shooting resigns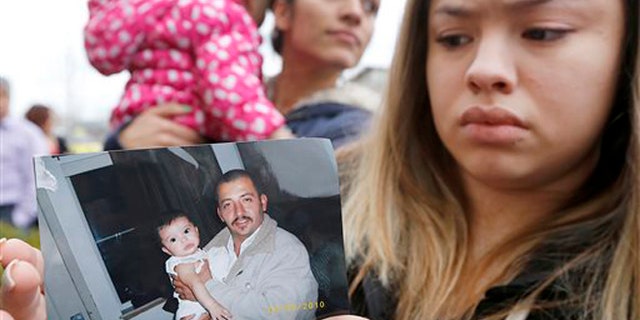 PASCO, Washington – One of the three officers on leave for the fatal shooting of a Mexican farmworker on the streets of Pasco, Washington, earlier this year, has resigned from the police department.
The local Tri-City Herald is reporting that Ryan Flanagan submitted a letter of resignation on Thursday. Dave Zabell, the Pasco city manager, told the paper that Flanagan's resignation is effective July 2.
The 9-year veteran and his fellow-officers Adam Wright and Adrian Alaniz have been on paid administrative leave since Antonio Zambrano-Montes died during the Feb. 10 confrontation. The 35-year-old immigrant was acting erratically, according to police accounts, and threw at least one rock at the officers before officers opened fire. They fired a total of 17 shots.
The shooting prompted months of protests in Pasco after a cellphone video showed the officers chasing Zambrano-Montes across a street before shooting him as he turned around with his arms outstretched.
Kennewick attorney Scott Johnson, who represents Flanagan, said Friday that his client had a job opportunity arise in the local building industry. He said the resignation was voluntary, and no one is forcing his client out of the police department.
"He had a job opportunity come up, and he just thought it was probably a good time to make that transition," Johnson told the newspaper.
Police chief Bob Metzer said Flanagan was instrumental in helping Pasco get a federal grant to help improve pedestrian safety in crosswalks with flashing lights.
"It's unfortunate that an officer felt he had to give up his career for what occurred," Metzger told the Herald on Friday. "We'll certainly miss him as an officer with the department and we wish him well in the future."
Zabell said that Flanagan's resignation in no way impacts the status of the other two officers, "and it doesn't impact the city's internal investigative process," Zabell said.
Based on reporting by the Associated Press.