Pasco investigators hand prosecutors report on police shooting of migrant worker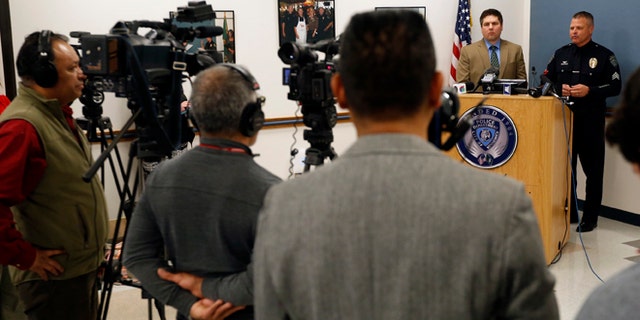 The Franklin County prosecutor's office will thoroughly review a massive report on the February killing of an unarmed Mexican man who was shot by police in Pasco, Washington, the head prosecutor says.
The report submitted Thursday by a police special investigative unit contains thousands of pages, 1,500 slides from cellphone videos of the shooting and more than 80 witness interviews, Prosecutor Shawn Sant said.
The Tri-City Herald says the report is expected to be released to the public in the next couple of weeks.
Sant said his office will decide whether criminal charges are warranted against any police officers, a process likely to take months.
The investigative unit, made up of members of area police agencies, was asked to look into the death of Antonio Zambrano-Montes, 35, who was shot at a busy intersection on Feb. 10 after he threw rocks at cars and police.
Captured on video, the orchard worker's shooting sparked weeks of protests with some critics saying police were quick to shoot because Zambrano-Montes was Hispanic. The death drew the attention of the government of Mexico.
"I've made a commitment to the public that we will be as transparent as possible," Sant said Thursday at a news conference. "Going forward, I have to figure out if we have enough information to proceed to a trial."
Sant wouldn't commit to a timetable for making that decision.
"We need to get this right," he said. "I'm not going to sacrifice quality for speed."
Among other things, prosecutors will consider whether the shooting was reasonable, within the law and justified.
Pasco police officers Ryan Flanagan, Adam Wright and Adrian Alaniz fired 17 times after Zambrano-Montes threw at least one rock at them at a busy intersection. He was struck by at least five bullets. The man was not carrying a gun or knife. A rock was found near his body.
The officers have been placed on leave pending the outcome of the investigation.
Officials have said the next step could be a coroner's inquest that would allow a jury of six civilians to determine the cause and manner of death. The jury also would decide if the shooting was justifiable.
Franklin County Coroner Dan Blasdel attended the news conference with Sant. Blasdel confirmed he plans to move forward with the inquest, the Herald reported.
Sant will review the jury's recommendation when considering whether to file charges.
An inquest is not likely to happen before August, officials said.
Sant also said his office is arranging a meeting with the victim's parents, who live in Mexico, to discuss the case. Zambrano-Montes moved to Pasco a decade ago.
Pasco is a mostly Hispanic, agricultural city of 68,000 people located 130 miles southwest of Spokane.
Like us on Facebook
Follow us on Twitter & Instagram