Parliament attack: Hero cop likely saved others from London maniac
In a touching display shared on London's Metropolitan Police Twitter page, former colleagues of Police Constable Keith Palmer, who was killed during yesterday's terror attack, paid tribute to their fallen brother and the other victims of Wednesday's terror attack.
Palmer, 48, and a 15-year veteran, was unarmed when the attacker, identified Thursday as Khalid Masood, attacked him with a large knife. Masood had already run down dozens of people on a nearby bridge when he grappled with Palmer, and officials believe Palmer's dying act may have saved other lives.
"He was such a friendly guy, it's just such a waste of life."
"I knew it would be [Keith]," one of Palmer's police peers tweeted. "That's the sort of guy he was, to step in when others might step back."
Palmer's shoulder number - similar to a U.S. police officer's badge number - will be retired "as a mark of respect."
MEMORIAL FUND ESTABLISHED FOR BRITISH POLICE OFFICER
The married father of a five-year-old daughter was "dedicated to his job and proud to be a police officer, brave and courageous," according to a family statement.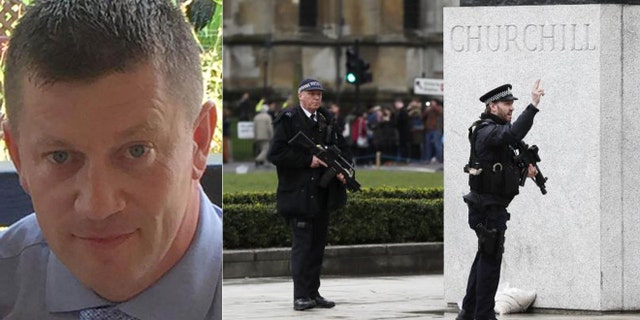 "He will be deeply missed," the statement read. "We love him so much."
Palmer was a member of the Met's Parliamentary and Diplomatic Protection command and was a member of the Royal Artillery before becoming a cop, The Sun reported.
A friend of Palmer's, David Darby, said Palmer had always dreamed of joining the diplomatic police.
"He was such a friendly guy, it's just such a waste of life," Darby told The Sun.