Paris Police Question Strauss-Kahn in French Sex Case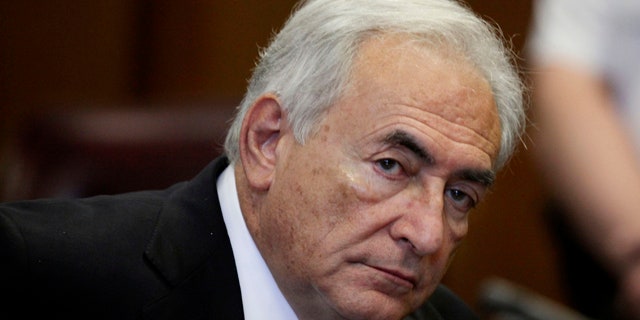 PARIS – Police questioned Dominique Strauss-Kahn for three hours Monday over accusations that the former International Monetary Fund chief tried to rape a writer during a 2003 interview, a judicial official said.
Monday's interrogation was the latest chapter in Strauss-Kahn's judicial saga, which saw him cleared of attempted rape and other charges in a separate case brought by a New York hotel maid. The prosecutor dropped the charges due to concerns about the credibility of the maid.
Strauss-Kahn resigned from his job as director of the IMF during the media storm that erupted when the case became public on May 14.
The Monday interrogation by members of a Paris-based police brigade wrapped up at around 11 a.m. local time, said the official, who spoke on condition of anonymity in accordance with French judicial regulations.
Strauss-Kahn -- a Socialist politician who had widely been considered a leading contender in next year's presidential race -- returned to his native France about a week ago after months in New York battling the rape charges brought forward by a Guinean immigrant.
Here, writer Tristane Banon accuses him of attacking her during a 2003 interview for a book she was writing. She claims Strauss-Kahn grabbed her hand and arm before the two fell to the floor of his apartment and fought for several minutes, with the politician trying to open her jeans and bra and putting his fingers in her mouth and underwear.
Strauss-Kahn's lawyers have called the incident "imaginary."
After the preliminary probe into her claim, which could take weeks or months, the Paris prosecutor's office could decide to drop the case or pursue the investigation, which could eventually lead to a trial.
The investigation will help prosecutors determine whether her allegations support a charge of attempted rape or sexual assault. Under French law, sexual assault has a three-year statute of limitations -- meaning the 2003 incident would be too old to prosecute -- compared with a 10 year limit for attempted rape.
Strauss-Kahn still faces a lawsuit filed by the New York hotel maid, Guinean immigrant Nafissatou Diallo, who says he forced her to perform oral sex and tried to rape her when she came to clean his hotel room. Through lawyers, he has acknowledged that a sexual encounter took place but contended that it was consensual.
The AP does not name people who report being sexually assaulted unless they agree to be identified or come forward publicly, as Diallo and Banon have done.