Paris IMF letter bomb: Possible link to failed German bomb investigated
French authorities are working with officials in Greece to determine if a Greek anarchist group was behind the letter bomb attack that left one injured at the International Monetary Fund office in Paris early Thursday.
The group, called Conspiracy Cells of Fire, claimed responsibility for a failed letter bomb sent to the German Finance Minister on Wednesday. French authorities are investigating if there is a link to the IMF letter bomb.
French President Francois Hollande called Thursday's explosion in Paris "an attack" and said the government would do "everything to find out the origin of this malicious act."
SHOOTING AT HIGH SCHOOL IN SOUTHERN FRANCE, POLICE SAY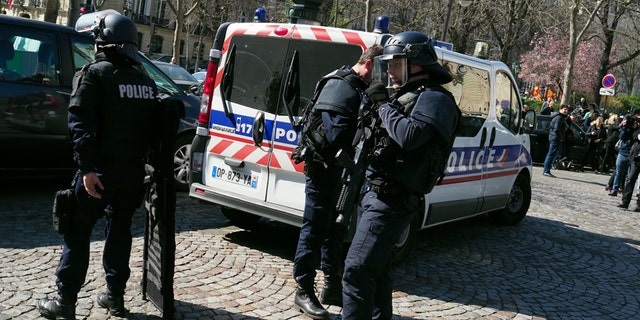 Hollande noted "a similarity with another event of the same nature in Berlin. ... We are trying to establish the causes of what happened as part of an international investigation."
After the late-morning explosion in Paris, employees of the IMF office in a chic district of western Paris were evacuated while armed military officers and police guarded the area.
It was unclear who sent the homemade explosive, which was like a "big firecracker" and sent by regular mail, Paris police chief Michel Cadot said. He said the IMF office had received threatening phone calls in recent days but they were not necessarily linked to Thursday's incident.
DUTCH PM RUTTE CLAIMS WIN OVER 'WRONG KIND OF POPULISM'
IMF director Christine Lagarde, who is French, said in a statement that she was informed about the explosion while on a trip to Germany. "I condemn this cowardly act of violence and reaffirm the IMF's resolve to continue our work in line with our mandate," she said.
The secretary who opened the letter was injured by shrapnel in the face and hurt in the eardrum because of a "rather violent noise," the police chief said.
Police searched all four floors of the building, Cadot said. No one else was injured and only light damages were incurred.
France has been on high alert after a string of deadly Islamic extremist attacks over the past two years.
The most recent attack happened last month when a machete-wielding assailant shouting "Allahu Akbar!" was shot by soldiers stationed outside the Louvre Museum. The attacked, who was shot four times after injuring a soldier, was identified as Egyptian-born Abdullah Reda Refaie al-Hamahmy, 28.
A Greek public order ministry official said French authorities sent Greek police photographs of the blast site, which are being examined by Greece's anti-terrorism squad.
Greek authorities were awaiting information on potential evidence from the injured secretary in the hope she might remember details about the sender's address, the ministry official said.
The official spoke to The Associated Press on condition of anonymity, which is customary in cases involving criminal investigations.
The Greek group that claimed responsibility for the German bombing, Conspiracy Cells of Fire, claimed in an online posting Thursday on a Greek left-wing website that the attack was part of a concerted campaign by international anarchist groups.
Many Greeks resent austerity measures imposed by the IMF and the European Union and linked the financially troubled country's bailout.
The bomb sent to Germany, containing low-grade explosives like the ones used in fire crackers, was destroyed Wednesday before it could explode.
The Associated Press contributed to this report.