Paris floodwaters rise as 240 towns suffer damage after heavy rains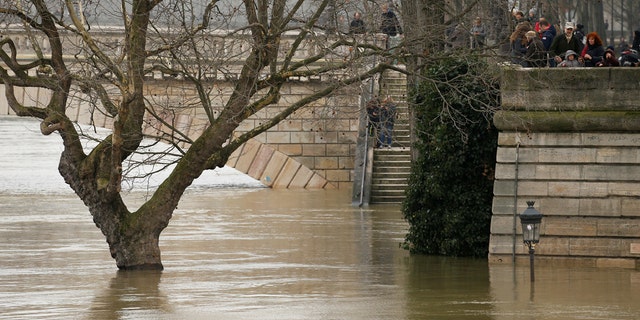 More than 240 French towns have suffered damage as the swollen Seine River continued to rise on Sunday in the wake of massive flooding prompted by weeks of heavy rain.
The river is expected to reach its peak late Sunday or early Monday, but floodwaters have already halted boat traffic in Paris, closed roads and schools and prompted the evacuation of hospitals.
In Villennes-sur-Seine, west of Paris, the ground floor of some buildings has disappeared under water and residents are using boats instead of cars.
Around 1,000 people have been evacuated from their homes in the greater Paris region, according to police, while around 1,500 homes were without electricity.
In Paris, cruise boat companies are suffering losses because all river traffic has been banned for days.
KOREAS TRY OUT OLYMPIC DIPLOMACY AT NORTH KOREAN SKI RESORT
Police reportedly fined people who took a canoe Saturday into the Seine in central Paris, and sternly ordered others in a tweet against such actions, calling them "totally irresponsible."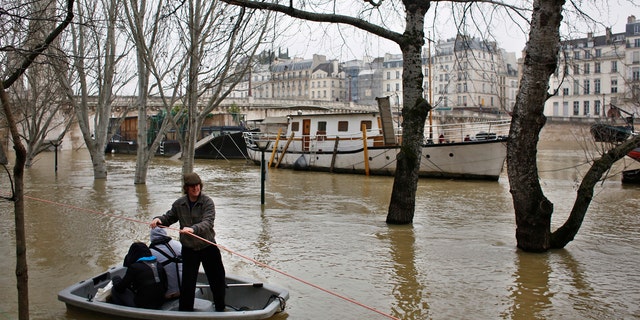 The famous river had risen 4.3 inches in 24 hours by Saturday evening, more than 13 feet (4 meters) above its normal height, causing headaches for commuters as well as people living near its overflowing banks.
Tourists also suffered with the capital's famous Bateaux Mouches rivercraft out of service, and only emergency services were authorized to navigate the Seine.
France 24 reports that the Vigicrues flooding agency forecasts the river will peak at 19.3 feet overnight, not quite reaching the 2016 high, when the Louvre museum was forced to shut for four days.
However, the world's most visited museum was on high alert Sunday, along with the Musee d'Orsay and Orangerie galleries, with the lower level of the Louvre's Islamic arts wing closed to visitors at least until Monday.
JORDAN KING CALLS FOR PALESTINIAN CAPITAL IN EAST JERUSALEM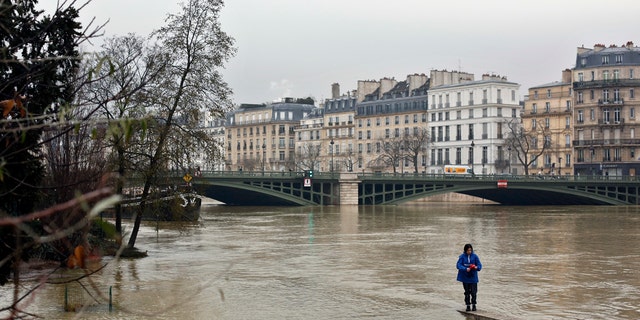 Police again warned Parisians against swimming or canoeing in the river, saying it was "forbidden and extremely dangerous."
Better weather is expected for the week ahead. But even once the water levels recede, forecasters and officials say it will be a slow process, since much of the ground is already waterlogged.
"If we're talking about things getting completely back to normal, that's going to take weeks," said Jerome Goellner, regional head of environmental services, according to the Associated Press.
The December-January period is now the third wettest on record since data collection began in 1900, according to France's meteorological service.
However, fears of flooding like that of 1910, which saw the Seine rise to just over 24 feet, shutting down much of Paris' basic infrastructure, appeared unfounded.
The Associated Press contributed to this report.