Paraguayan president calls on fellow government officials to 'stop robbing' from the people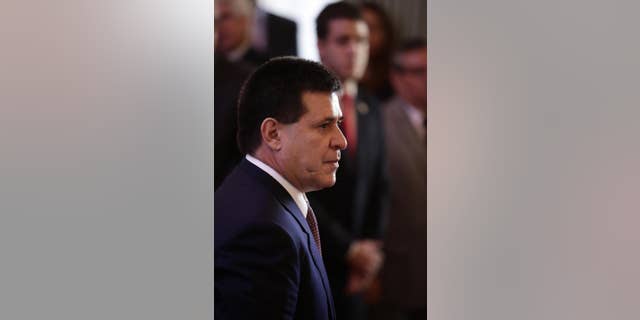 ASUNCION, Paraguay – Paraguay's president is calling on fellow members of the government to "stop robbing" from the South American country.
President Horacio Cartes made the statement Tuesday during a passionate speech at Villa Hayes, where subsidized housing is being built for older people about 50 kilometers (31 miles) northeast of Asuncion.
"Stop robbing. Don't rob anymore. It's the people's money," Cartes said.
The president didn't call anybody out by name.
He said he was honored whenever he heard that government corruption was being eliminated, adding that "we'll cut off the hand" of any corrupt official.
Paraguay, a small and poor country of just under 7 million people, has long had problems with government graft. Two former Cabinet ministers of the previous administration are currently being tried on corruption charges.