Paraguay elects anti-gay tobacco magnate as president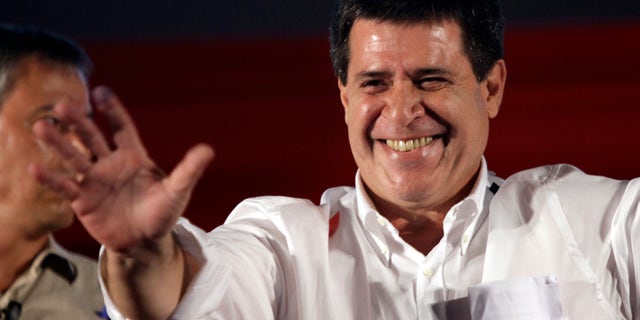 ASUNCION, PARAGUAY – An anti-gay tobacco magnate, who compared gay people to "monkeys" and threatened to remove his private parts if his son married another man, was elected president of Paraguay Sunday.
By electing Horacio Cartes, Paraguayans returned the conservative Colorado Party to the presidency that it held for 61 years, before former Roman Catholic bishop Fernando Lugo won the office in 2008.
Cartes won a five-year term with 46 percent of the vote over 37 percent for Efrain Alegre of the Radical Liberal party, the Electoral Court announced after most votes were counted. Five other candidates trailed far behind.
"I'll need help from all the Paraguayans to govern in the next five years. Poverty, the lack of jobs for young people and international issues await us," Cartes said Sunday night.
Click for the full story from Fox News Latino.