Palestinians say Israel caused their summer water shortage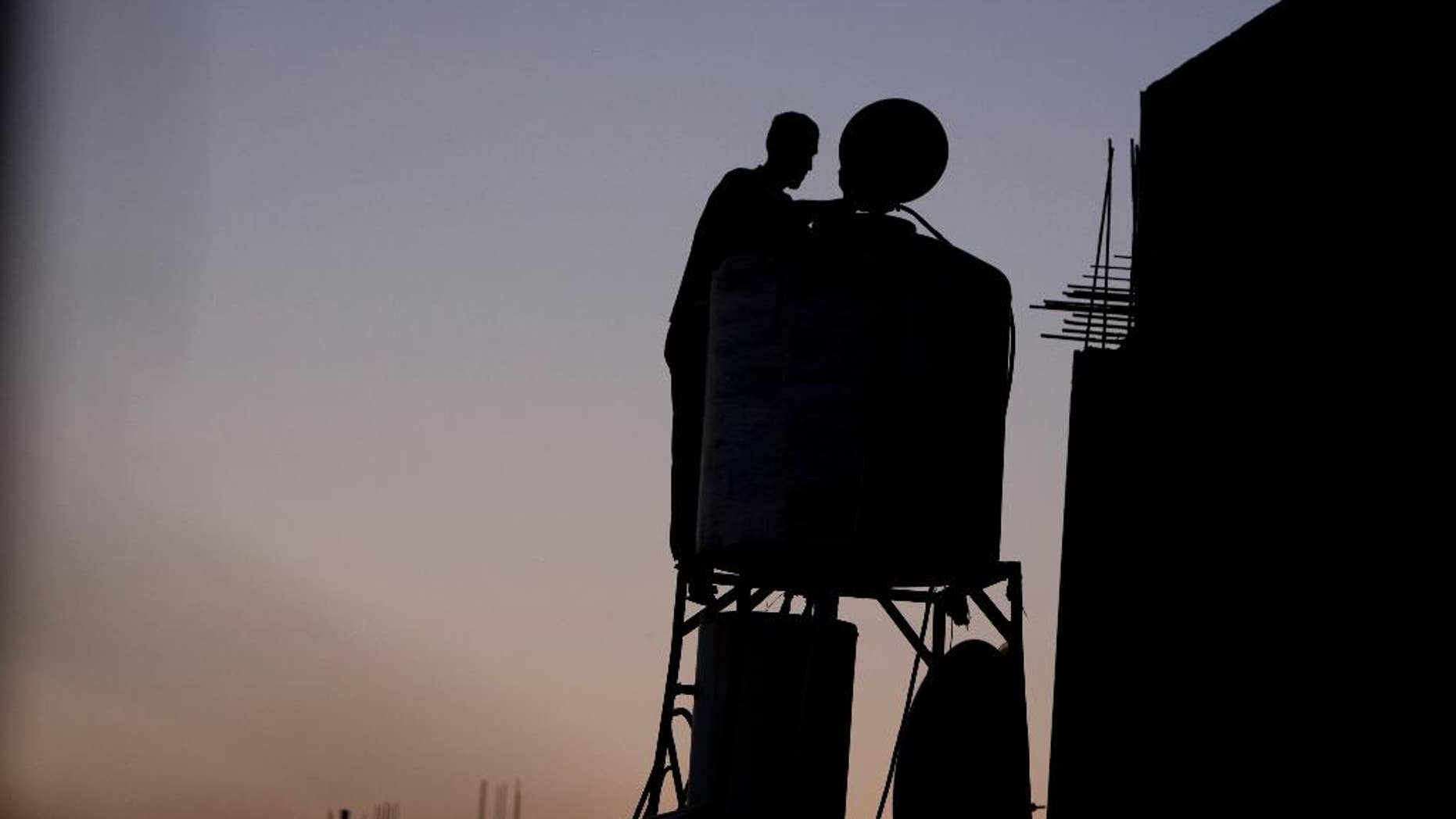 SALEM, West Bank – As Palestinians in the West Bank fast from dawn to dusk in scorching heat during the Muslim holy month of Ramadan, tens of thousands of people have been affected by a drought that has greatly reduced the flow to their taps.
Israel admits it's been forced to cut water supplies to the parched area, saying that nearby Jewish settlements have also been affected. But Palestinian areas appear to have been hit much harder, and both sides are blaming each other for the painful situation.
The water shortage has harmed farmers, forced people to bathe less and created a booming business for tanker trucks that travel from house to house delivering water.
Israel blames it on the unusually early summer heat and the Palestinians' refusal to cooperate with Israel on renovating their leaky pipe system. Palestinians say the shortage is evidence of the uneven distribution of the water that runs beneath their feet in an underground aquifer — a distribution that was enshrined in an outdated peace agreement.
Ironically, the shortages come as Israel has made great strides toward water independence through a fast-growing desalinization program. Today, desalinated water provides about 30 percent of Israel's water and has reduced the semi-arid country's dependency on meek rivers and sparse rainfall.
But the Palestinian villages in the West Bank and some isolated Israeli settlements are not connected to the national water grid, relying instead on local underground supplies.
Israeli environmental advocate Gidon Bromberg says the water shortage is "outrageous."
"The fact there is excess water in Israel means for very first time, the natural water can be shared at low cost to Israel and high gain to Palestinians and Israelis together," said Bromberg, the director of EcoPeace Middle East, a group that promotes region-wide environmental cooperation.
In Salem, a village of 7,000 people in the northern West Bank, for a month now, Israel has slowed the water flow by two-thirds, said local water engineer Wahed Hamdan. What remains is further reduced by the village's leaky pipe system, which was installed back in 1982, he said.
To cope with the diminished flow, Salem has instituted a rotation regime between neighborhoods, Hamdan said. Residents use pumps to bring the trickle to storage tanks on their roofs but the weak stream cannot reach homes on the outskirts of the village.
When the water runs out, Mohammed Fahmi, 22, does a brisk trade supplying the village homes via 800-gallon (3,000-liter) tankers, which he delivers for 80 shekels, or about $20 per truck — which can quadruple a family's monthly water bill.
The water comes from wells drilled by the Palestinian Authority. But there's often not enough for everyone. "Some people wait two days until I can deliver," Fahmi said.
Suleiman Hasan, a driver from Salem, said he is showering less to save water. His garden has dried up, and his olive tree has turned yellow.
By contrast, in the West Bank's political center of Ramallah, water is delivered twice a week, and the pressure is high enough to reach rooftop storage tanks without extra pumping. Usually, supplies last until the next delivery.
The story of the West Bank's water woes goes back to the 1967 Mideast war, when Israel conquered the territory from Jordan and took control of the water resources below ground. Under the interim peace accords signed in 1995, Israel controls 80 percent of shared water resources, while the Palestinian Authority is entitled to drill 20 percent. Israel must sell additional water to the Palestinians.
The Oslo Accords, which divided up the natural water resources, were intended to last for five years, pending a final peace agreement. But they remain in effect after two decades of failed peace efforts.
Israel Water Authority spokesman Uri Schor said Israel sells the Palestinians 64 million cubic meters of water each year, double the amount stipulated in the 1995 accords. He said that to protect the groundwater, Israel has reduced supplies to both Palestinian and Israeli communities in the West Bank. He would not say how much has been reduced to each side.
Schor accused the Palestinians of refusing to convene the Joint Water Committee, a body established by the Oslo Accords to manage the shared water resources. Without the committee, Schor says, it's impossible to approve repairs to infrastructure — and damaged pipes can drain away up to a third of supplies.
"The Palestinians are taking advantage of this to say Israel is taking our water," he said. "This is rubbish. The area has a problem and this can be solved by upgrading all the infrastructure, but the Palestinians veto this."
Palestinian Water Authority director Mazen Ghoneim countered that, saying the joint committee has not met in five years because Israelis use it to force Palestinians to approve water projects for Israeli settlements, which the Palestinians and most of the international community consider illegal.
Ghoneim demanded a renegotiation of the 80-20 percent ratio of water sharing in the West Bank and alleged that the Palestinian share of the water has actually declined due to the increased population and worsening leakage. He said villages and cities that are home to some 120,000 Palestinians have been affected.
Israeli and Palestinian leaders have not been willing to renegotiate water access without a larger peace deal — which seems highly unlikely, at least in the near future, amid the stalled Mideast negotiations.
In the meantime, foreign governments have attempted to help the Palestinians improve their water network. Since 2000, the American government's agency USAID has spent tens of millions of dollars upgrading some 600 miles (900 kilometers) of pipelines, mostly in the West Bank.
Water shortages have hit Israeli settlements as well, although to a lesser degree.
Esther Allouch, spokeswoman for the Samaria Regional Council, a group of settlements in the northern West Bank, said the hilltop settlement of Tapuah, with a population of 1,000, had a three-day shortage recently and also needed to bring in water tankers, which her council pays for. Over the weekend, nearly all the 20,000 residents of the Israeli city of Ariel in the West Bank experienced a half-hour water interruption. Allouch said settlements are suspending irrigation of their farmland and reducing their uses of dishwashers and showers.
"For years we have been saying that the infrastructure in Judea and Samaria is not sufficient," she said, using the biblical name for the West Bank.
Bromberg, the environmental advocate, said the problem could be solved by renegotiating water allocation and allowing the Palestinians to drill more groundwater. He said Palestinians get roughly 70 liters of water per person per day, while Israelis get more than twice that amount.
"Holding the Palestinian public hostage to Oslo (accords) means they are not getting a fair share of the natural water," he said.
___
Cheslow reported from Jerusalem. Follow Mohammed Daraghmeh on Twitter at www.twitter.com/MohammedDaragh1 and Daniella Cheslow at www.twitter.com/dacheslow .