Palestinians loathed Sharon as bitter foe who tried to sabotage their statehood dreams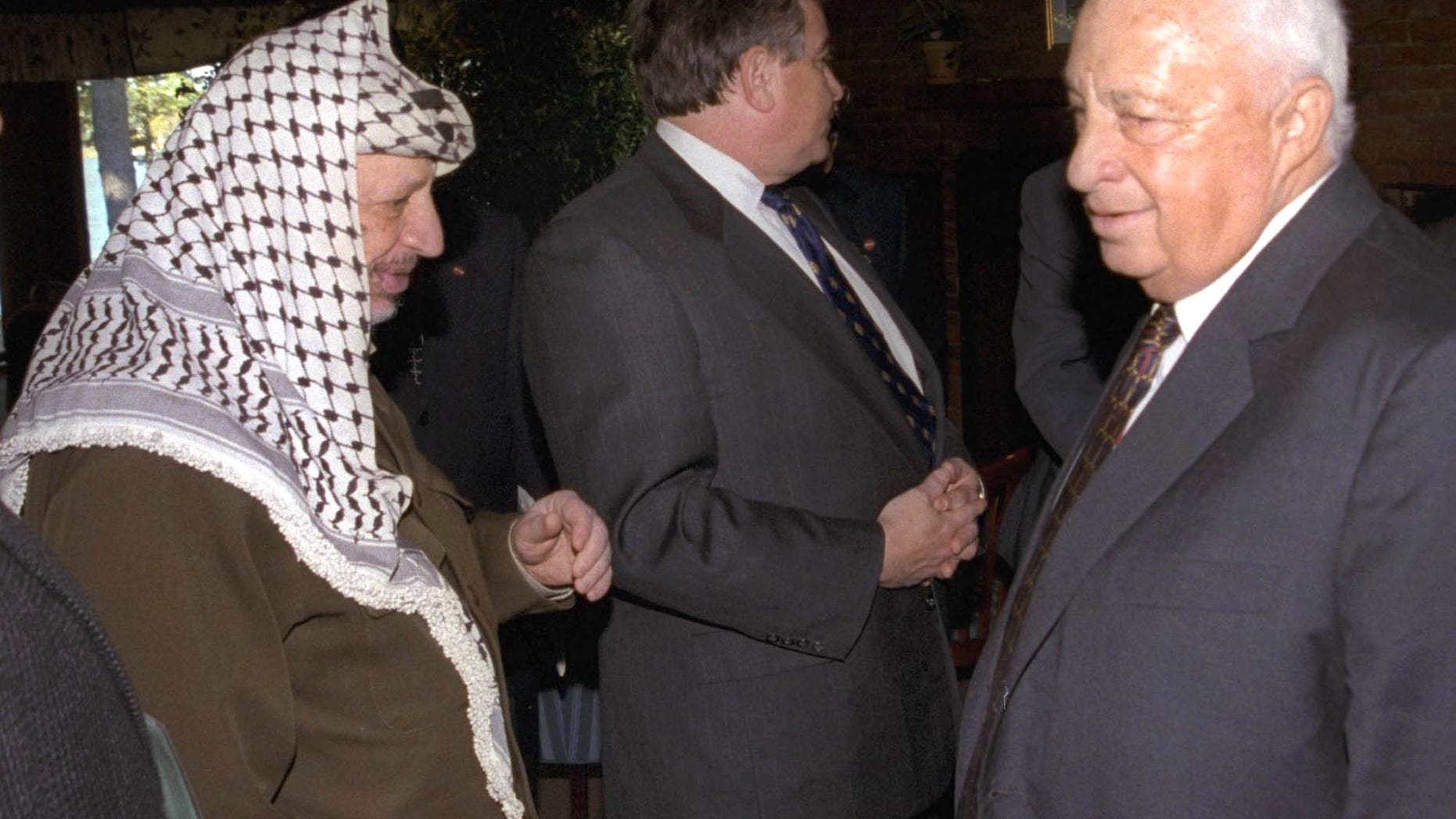 RAMALLAH, West Bank – Ariel Sharon was loathed by many Palestinians as a bitter enemy who did his utmost to sabotage their independence hopes — by leading military offensives against them in Lebanon, the West Bank and Gaza and a settlement drive on the lands they want for a state.
Word of the former Israeli prime minister's death Saturday, eight years after a debilitating stroke, elicited muted expressions of satisfaction. Some said they regret he wasn't held accountable for his actions during his lifetime.
"He wanted to erase the Palestinian people from the map," said Tawfik Tirawi, who served as Palestinian intelligence chief when Sharon was prime minister a decade ago. "He wanted to kill us, but at the end of the day, Sharon is dead and the Palestinian people are alive."
In the Gaza Strip, Khalil al-Haya, a leader in the Islamic militant group Hamas, said Sharon caused suffering to generations of Palestinians. "After eight years, he is going in the same direction as other tyrants and criminals whose hands were covered with Palestinian blood," he said.
In the Gaza refugee camp of Khan Younis, supporters of two militant groups, Islamic Jihad and the Popular Resistance Committees, gathered in the main street, chanting "Sharon, got to hell." Some burned Sharon pictures or stepped on them, while others distributed sweets to motorists and passers-by.
As an army general and politician, Sharon was at the center of the most contentious episodes of the Israeli-Palestinian conflict. Even his decision in 2005 to pull Israeli soldiers and settlers out of Gaza, a seemingly conciliatory move, was at least in part meant to cement Israeli control over much of another war-won territory, the West Bank, according to one of his closest advisers at the time.
Former Palestinian peace negotiator Ahmed Qureia, who held a series of meetings with Sharon in 1998, wrote in a 2005 book that the Israeli maverick "believed in the logic of force."
Qureia wrote that he walked away from those meetings with the conviction that Sharon was trying to torpedo any possibility of a deal establishing a Palestinian state.
The Israeli-Palestinian conflict was a central theme of Sharon's life.
As a young soldier, he headed a commando unit that carried out reprisals for Arab attacks. After the slaying of an Israeli woman and her two children, Sharon's troops blew up more than 40 houses in Qibya, a West Bank village then ruled by Jordan, killing 69 Arabs, most or all of them civilians.
In 1982, after a string of attacks by Palestinian gunmen based in Lebanon, Sharon engineered the invasion of Israel's northern neighbor. Three months into the invasion, Israeli troops were stationed next to the Palestinian refugee camps of Sabra and Chatilla in Beirut when members of a Lebanese Christian militia allied with Israel systematically slaughtered hundreds of people there.
An Israeli commission rejected Sharon's contention that he had not known what was coming and he was fired.
In the early 1990s, Sharon oversaw a massive settlement drive in the West Bank. Toward the end of that decade, at a time when Israel had promised the U.S. not to establish new settlements, Sharon urged settlers to seize more West Bank hilltops to prevent a partition of the land.
As opposition leader in September 2000, Sharon demonstratively visited a contested Jewish-Muslim holy site in Jerusalem, setting off Palestinian protests that quickly escalated into an armed uprising.
Less than a year later, he was elected prime minister. In 2002, after a string of Palestinian shooting and bombing attacks, he reoccupied the West Bank towns that had been handed to Palestinian self-rule in previous interim peace deals.
Sharon also placed his longtime nemesis, then-Palestinian leader Yasser Arafat, under virtual house arrest at his headquarters in the West Bank town of Ramallah.
From ordinary people to officials, Palestinians had bitter memories of Sharon.
In Qibya, the site of the 1953 reprisal raid, residents said they still stage an annual memorial march. Hamed Ghethan, 65, who was a child at the time of the raid, said earlier this week that he was sorry to see Sharon and the others involved in the raid escape punishment. "We were hoping the world would hear our voice and try them," he said.
The international group Human Rights Watch expressed a similar sentiment.
"It's a shame that Sharon has gone to his grave without facing justice for his role in Sabra and Shatilla and other abuses," Leah Whitson, the Middle East director of the group, said in a statement. "His passing is another grim reminder that years of virtual impunity for rights abuses have done nothing to bring Israeli-Palestinian peace any closer."
___
Associated Press writers Dalia Nammari in Qibya, West Bank, Hatem Moussa in Khan Younis, Gaza Strip, and Ibrahim Barzak in Gaza City, Gaza Strip, contributed to this report.