Palestinian teen girls mistake 70-year-old Palestinian man for an Israeli, stab him with scissors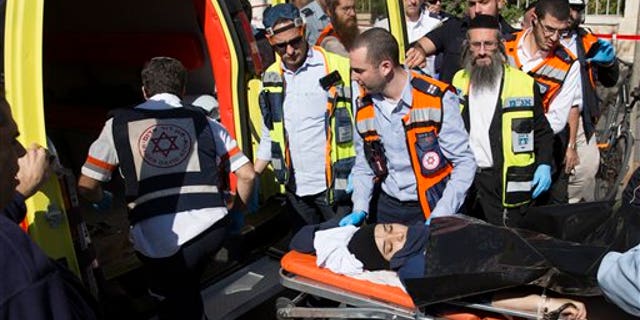 JERUSALEM – Two Palestinian teenage girls stabbed a 70-year-old Palestinian man with scissors outside a central Jerusalem market on Monday before they were shot by police in a fresh burst of violence ahead of the arrival of U.S. Secretary of State John Kerry.
Police said one of the attackers was killed, while the second was wounded. The man, apparently mistaken for an Israeli, suffered wounds to his head and back, while a 27-year-old bystander was lightly wounded by stray gunfire.
The attack was the latest in a two-month spate of Israeli-Palestinian violence that erupted in Jerusalem in mid-September and quickly spread across Israel and into the West Bank and Gaza Strip. Kerry is expected to meet with Israeli and Palestinian leaders on Tuesday to help ease tensions, in what is to be his first visit to the area in a year.
The incident occurred near Mahane Yehuda, a popular outdoor market in downtown Jerusalem. It caused a panicked scene in the busy area.
A witness, Akram Ezyy, said the attackers looked like they were "about 12." He said they were chasing after two old women with scissors when they were shot.
Police spokeswoman Luba Samri said in a statement the police officer ordered the girls to halt their attack, and shot them when they came toward him. The statement did not say how close the girls got to the officer.
The current wave of unrest begin in mid-September over tensions surrounding a sensitive Jerusalem holy site. Eighteen Israelis have been killed, mostly in stabbings, while 88 Palestinians have been reported killed by Israeli fire. Of them, 56 are said by Israel to be attackers and the rest were killed in clashes with security forces.
Israel says the violence stems from incitement by Palestinian authorities and incendiary videos on social media. Most of the attackers have been young Palestinians in their teens and early 20s. The Palestinians say the violence is rooted in frustration over nearly a half century of Israeli occupation and lack of hope for obtaining independence. Palestinians have accused Israel of using excessive force.