Palestinian driver kills baby at Jerusalem train station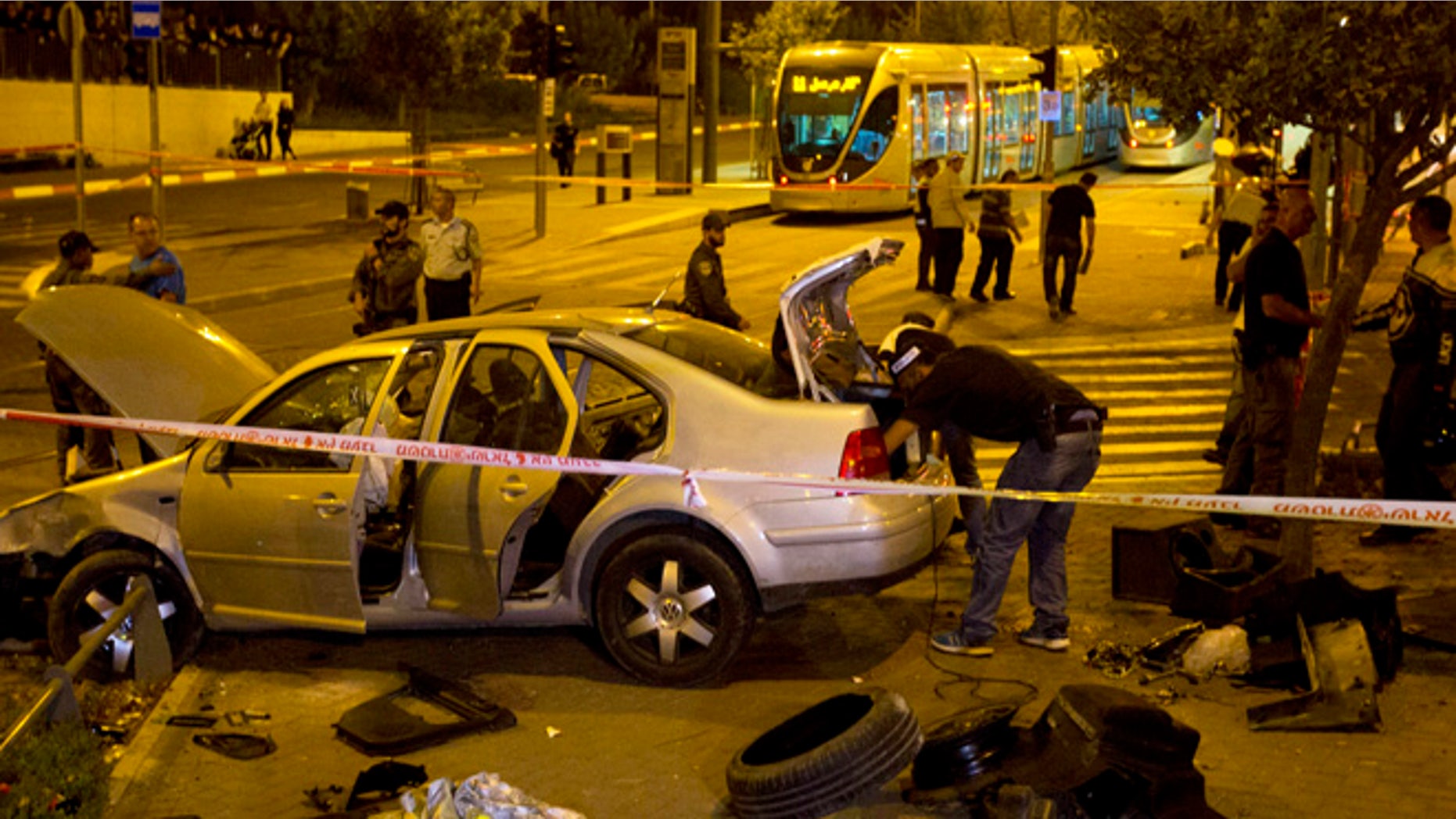 JERUSALEM – A Palestinian motorist with a history of anti-Israel violence slammed his car into a crowded train station in Jerusalem on Wednesday, killing a three-month-old baby girl and wounding eight people in what police called a terror attack.
The incident came after months of tensions between Jews and Palestinians in east Jerusalem — the section of the city claimed by the Palestinians as their future capital. The area has experienced unrest and near-daily attacks on the city's light rail by Palestinian youths since a wave of violence over the summer, capped by a 50-day war between Israel and Hamas militants in Gaza.
The car struck the train station near the national headquarters of Israel's police force. Police spokesman Micky Rosenfeld said the driver got out of the car and tried to flee before he was shot by a police officer.
He said footage captured by security cameras indicated the driver deliberately struck people waiting at the stop. "We look at this incident as a terrorist attack," he said. He said the area was cordoned off and forensic and bomb disposal experts were on the scene examining the car.
The footage, posted on the Ynet news site, showed the car turning out of moving traffic and heading straight into the station, accelerating while plowing through several rows of people.
Dr. Yaakov Barkun of Hadassah Medical Center said a 3-month-old girl injured in the attack later died of her wounds.
"She is a pure baby girl who hasn't done anything bad to anyone," Shimshon Halperin, the girl's grandfather, told Channel 2 TV. "She was murdered for no reason."
Rosenfeld said the driver, a resident of the east Jerusalem neighborhood of Silwan, was in serious condition. He added that the driver "has served time in Israeli prison for terrorism."
Silwan, a predominantly Arab neighborhood, has seen tensions spike in recent weeks since Jewish nationalists moved into several homes in Arab areas.
The home sales have been facilitated by nationalist Jewish groups intent on solidifying the Jewish presence in east Jerusalem. Palestinians, who seek east Jerusalem as their capital, consider the arrival of their Jewish neighbors to be a provocation.
East Jerusalem has experienced months of unrest since a wave of violence erupted over the summer. Train passengers have reported Palestinians attacking the carriages with rocks and other violence.
The unrest began with the kidnapping and killings of three teenage Israelis in the West Bank in June by a pair of Hamas operatives. Several weeks later, Jewish extremists kidnapped and burned to death a Palestinian teenager in east Jerusalem. Then, on July 8, Israel launched its war against Hamas in Gaza in response to heavy rocket fire.
East Jerusalem is home to Jerusalem's more than 200,000 Arab residents, as well as 200,000 Israelis.
Israel captured east Jerusalem, along with the West Bank and Gaza Strip, in the 1967 Mideast war and annexed the area as part of its capital — a step that has not been recognized internationally. The Palestinians seek east Jerusalem as the capital of a future state that would also include the West Bank and Gaza.