Pakistan Rejects Afghan Plea to Attend Conference After Deadly Airstrike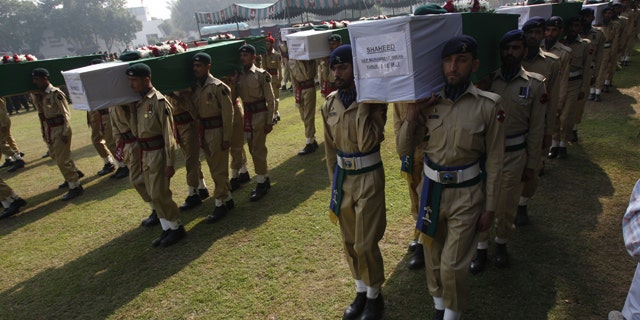 KARACHI, Pakistan – Pakistan's prime minister said Wednesday he rejected a personal plea from the Afghan president to reconsider Islamabad's decision to boycott an upcoming international conference on Afghanistan over NATO airstrikes that killed 24 Pakistani troops.
Prime Minister Yousuf Raza Gilani's comments showed how the weekend attack not only poisoned ties between Pakistan and the U.S., which leads NATO forces in Afghanistan, but also between Islamabad and Kabul. This atmosphere will make it that much harder to find a sustainable end to the Afghan war.
Pakistan is angry at Kabul because the NATO aircraft that carried out the strikes on two army border posts before dawn Saturday were based in Afghanistan. A video released by the army Wednesday showed the mountainous terrain in Pakistan's Mohmand tribal area where the attacks occurred.
"Afghan land has been used against Pakistan, and we are protesting against this," Gilani told reporters in the southern city of Karachi. "We don't want the land of our brother country, which is like a twin, to be used against Pakistan."
Pakistan announced Tuesday that it planned to skip the Dec. 5 conference in Bonn, Germany, that is intended to map out a sustainable future for Afghanistan once international troops withdraw. Few had high expectations for the conference, but the absence of Pakistan will make even minor progress more difficult.
Pakistan had already closed its borders to shipments of supplies heading for NATO troops in Afghanistan and demanded the U.S. vacate an air base that it has used for American drones in retaliation for the attacks.
Karzai called Gilani late Tuesday and asked him to reverse Pakistan's decision to boycott the Bonn conference, said the prime minister. But Gilani told him the country would not come "unless assurance is given to Pakistan's security, sovereignty, integrity, honor, dignity and self-respect."
U.S. and NATO officials have expressed their sympathies over the deaths of the Pakistani soldiers and are investigating exactly what happened. But Pakistan is still outraged, and one of its top generals said Tuesday that the army still believes the attacks were a "deliberate act of aggression."
According to U.S. military records described to The Associated Press, the weekend incident occurred when a joint U.S. and Afghan special forces patrol requested backup after being hit by mortar and small arms fire by Taliban militants. Before responding, the joint U.S.-Afghan patrol first checked with the Pakistani army, which reported it had no troops in the area, the military account said.
Gen. Ashfaq Nadeem, Pakistan's director of military operations, gave a different version of events Tuesday in a detailed briefing to a select group of newspaper editors, talk-show hosts and defense analysts, according to those who attended and media reports that followed.
Nadeem said minutes before the first army post, Volcano, was attacked, a U.S. sergeant from the "Tactical Operations Center" called a Pakistani major on duty and told him that American special forces received indirect fire from an area called Gora Pahari, according to The News, an English-language newspaper. Gora Pahari is 9 miles from the location of the army posts, the general said.
Before the Pakistani major could respond to the call, two helicopters appeared and attacked Volcano, prompting the nearby Boulder post to fire at the aircraft. Pakistan notified NATO it was attacking a Pakistani army post, said Nadeem. The attack started around 12:15 a.m. and continued for about 50 minutes, said Nadeem.
The helicopters returned about 10 minutes later and attacked a group that was trying to reinforce Boulder, according to the general. The second attack lasted about an hour, and Pakistani troops engaged the helicopters with all available weapons, including 26 air burst round, Nadeem said.
A video released by the Pakistan army Wednesday allegedly showed the rugged mountain ridge in Mohmand where the posts were located. The posts, which were quite small and made up of stacked gray stones, looked damaged in several places. The terrain was very steep, and the rocky mountainsides contained very little vegetation.