Pakistan buries victims of new quake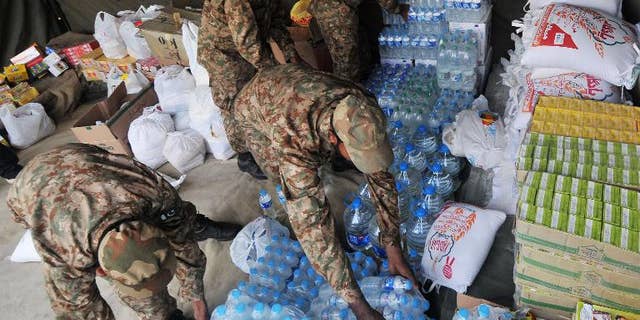 Awaran (Pakistan) (AFP) – The victims of a new earthquake to hit southwest Pakistan, days after a massive tremor, were buried Sunday as officials distributed a fresh consignment of relief goods to survivors.
The powerful 6.8-magnitude earthquake struck on Saturday and killed at least 22 people in a region already devastated by a 7.7-magnitude quake which killed more than 300 people last Tuesday.
"All the 22 victims were buried in Nokjah village of Awaran district, which had been badly affected by the quake yesterday," senior local government official Shafqat Anwar told AFP.
He said 14 trucks carrying relief goods including tents, blankets, food packets, water, rice and lentils had reached the Mashkey area of Arawan.
Local officials distributed the goods among quake-hit people in different areas including Gajjar, Khaliqabad and Nokjah on Sunday.
Anwar said 16 more trucks with relief goods had left Quetta, the capital of Baluchistan province, and would reach Mashkey by Monday.
Infrastructure in the rugged and arid province is minimal and the army and paramilitary Frontier Corps have been heavily involved in the relief effort, along with non-government organisations.
Awaran was shattered by the quake last Tuesday which left 359 dead and more than 100,000 people homeless.
The district's population is scattered over more than 21,000 square kilometres (8,000 square miles)and infrastructure is extremely limited, with few medical facilities or even roads.
Relief efforts have at times been thwarted by insurgent attacks on rescue convoys, and local officials admit that teams have been unable to reach thousands of survivors in the worst-hit areas.
The area is a stronghold of Baluch separatist rebels waging a decade-long insurgency against the Pakistani state.
On Thursday a helicopter carrying the head of the National Disaster Management Agency came under rocket fire while flying in Arawan district, but no one was hurt.
On Friday insurgents opened fire on another helicopter and, in two separate incidents, fired on rescue convoys, officials said. Again, no one was hurt.
The quake is Pakistan's deadliest since the Kashmir tremor of 2005 which killed 73,000.