Pakistan army rescues chief justice's son, kidnapped in June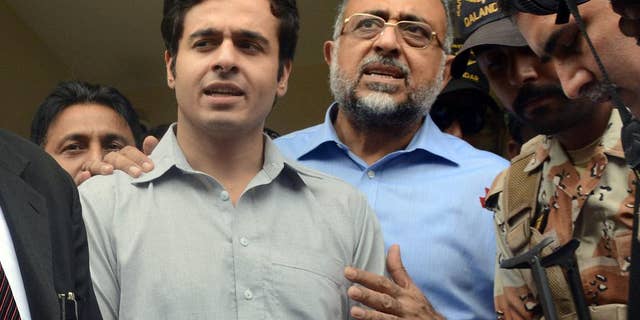 NEWYou can now listen to Fox News articles!
In a pre-dawn operation near a tribal region, the Pakistani army and paramilitary troops on Tuesday rescued a chief justice's son kidnapped last month in southern Sindh province by a splinter group of the Taliban, the army spokesman said.
Awais Shah was being transported by his captors in the northwestern town of Dera Ismail Khan, when Pakistani troops and Paramilitary Rangers, acting on intelligence, swooped in and rescued the young man, a lawyer in his late 20s.
"Three terrorists were killed" in a shootout with the militants, including the driver of the car, said the spokesman, Lt. Gen. Asim Saleem Bajwa. He added that Shah is now safe and has been brought by plane to the port city of Karachi. Pakistani TV later broadcast footage showing Shah arriving at his family home in Karachi.
Bajwa declined to elaborate or name the splinter group of the Taliban that he said was behind the abduction.
Shah's father, Sajjad Ali Shah, praised the rescue.
Such operations are not uncommon in the region, located near the South Waziristan tribal area, which has seen scores of military offensives against militants. And in May, in neighboring Afghanistan, a joint U.S.-Afghan forces' raid on Islamic militants unexpectedly found and rescued the son of a former Pakistani prime minister who had been abducted three years ago.
At a press conference in the garrison city of Rawalpindi, the army spokesman described a dramatic operation that led to Shah's rescue.
Once the troops had killed all the militants and approached the car, they found a person sitting in the back, wearing a burqa -- the full-length robe commonly worn by conservative Muslim women. Bajwa said the person then identified himself as the son of the chief justice of Sindh's High Court.