Package explodes at South Korean university, injuring 1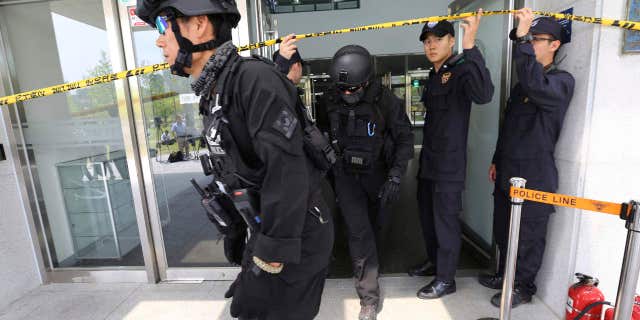 NEWYou can now listen to Fox News articles!
SEOUL, South Korea – A South Korean professor was injured Tuesday after opening a concealed explosive device brought to his university office in Seoul, police said.
The crudely made device was made with explosive powder, four batteries and dozens of bolts that were packed inside a vacuum bottle, and it exploded after the professor opened the bottle inside his office, according to the Seoul Metropolitan Agency.
The victim is a professor in the mechanical engineering department at Yonsei University.
The professor found the bottle inside a box that was inside a shopping bag hung on his office door, but police have yet to find the sender. The professor had burns in his hands, chest and necks, but his injuries weren't considered life threatening.
"It seems that the device didn't go off as planned as it just burned the explosive powder without dispersing the bolts," said a police official who didn't want to be named, citing office rules.
Police are examining the device and security video, and are also trying to determine whether the attack targeted a random individual or was based on a personal grudge.
A Yonsei University official said the professor, whose name wasn't released by police, enjoyed a good reputation among peers and students.
"It's up to the police to find out, but we don't know of any reason that would make him a target of an attack," said the official, who requested anonymity to discuss a case under investigation by police. "He wasn't injured seriously, but he will be hospitalized."