Our American Dream: "Tito the Builder" Inspired by His Colombian Grandmother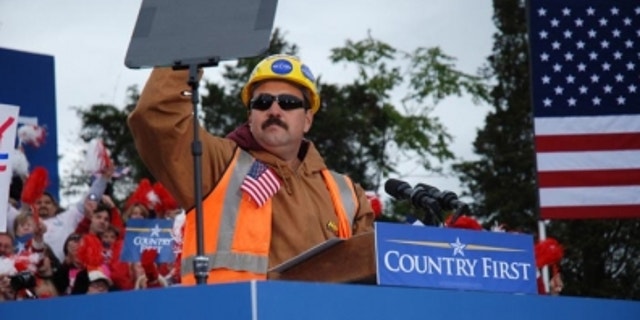 Across the United States, in all fields of endeavor, Latinos are working to uphold their place in American society. Fox News Latino is proud to present "Our American Dream" – a series of snapshots and profiles of Latino success stories.
Tito Muñoz, better known as "Tito the Builder," ignited crowds at McCain rallies during the 2008 Presidential Campaign, coining the phrase, "Born in Colombia, Made in the U.S.A." Owner of a construction company in Prince William County, Virginia, Muñoz serves on the Virginia Board of Housing and Community Development. He also founded the Conservative Hispanic Coalition on a mission to educate the Latino community on conservative ideals. Through this coalition Munoz created a radio program called "America Eres Tu" which he uses to help inform the Latino community on how to, as Muñoz puts it: "preserve the vision of the founding fathers of this nation."
On his radio show, Muñoz covers social issues and takes the time to explain conservative fiscal issues. Many Hispanics don't know "we owe money to other countries," Muñoz says, "they don't understand we have a deficit, they don't understand the magnitude of the debt, so I'm there trying to explain it in simple Spanish."
A naturalized citizen, Muñoz came to America from Colombia to live the "American Dream," a dream that was born in him at a young age, instilled by his maternal grandmother.
"My grandmother is my hero," explains Muñoz," "because she was a peasant and she didn't have any education at all, only a couple of months of first grade." Despite her poverty and lack of formal education, he explains, she was given the opportunity in Columbia to buy-out a business. "A lady told her, 'you could buy the business and you could pay me monthly' and my grandmother took that opportunity."
His grandmother bought a restaurant, and later an old house. She converted the house to a hotel so that she could cater to farm workers who would travel into the city to sell their produce. They would spend the night stay at the hotel, eat at the restaurant, and then proceed to the city the next morning to sell at the farmers market. Because of her vision, "she gave every member of the family an opportunity to go to college."
Muñoz can be heard Saturdays on "America Eres Tu," on WURA-920AM, Quantico, VA, and anytime on http://www.ustream.tv/channel/america-eres-tu.
Follow us on twitter.com/foxnewslatino
Like us at facebook.com/foxnewslatino