Oscar Pistorius release put on hold by South African justice department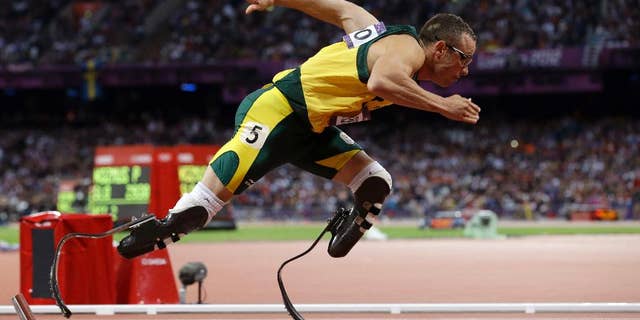 JOHANNESBURG – Two days before he was due to leave prison, Oscar Pistorius' early release was suddenly put on hold Wednesday by South Africa's Department of Justice, which sent his case back to a parole board.
It was unclear when the board would be able to meet again, justice department spokesman Mthunzi Mhaga said, but it was unlikely a new decision could be made by Friday's initially planned release date.
Pistorius, the double-amputee Olympic runner, is serving a five-year sentence for manslaughter for killing girlfriend Reeva Steenkamp in 2013. He was eligible to be moved from jail to house arrest after serving one-sixth of that sentence, or 10 months, which is up on Friday.
Wednesday would also have been Steenkamp's 32nd birthday, and her parents earlier held a beachside ceremony in their hometown of Port Elizabeth on South Africa's south coast.
In blocking Pistorius' release, the justice department said he was approved for home correctional supervision by parole officials in June, only eight months into his sentence. By law he should have served 10 months of his sentence before his case could be reviewed, the department said.
"It is apparent therefore that the decision to release him on 21 August 2015 was made prematurely on 5 June 2015 when the offender was not eligible to be considered at all," the justice department said in a statement.
Spokesman Mhaga said "the decision of the parole board will have to be suspended" until the board can meet again for a fresh hearing. Justice minister Michael Masutha would now study Pistorius' "profile" and the original parole board decision, the department said.
The earliest the board could now meet again would be Friday.
Pistorius' lawyer, Brian Webber, told The Associated Press: "We're considering our position."
Pistorius' family accepted the decision but was also considering their options, spokeswoman Anneliese Burgess told the AP.
The justice minister's decision to review Pistorius' early release was "valid," said Mannie Witz, a South African criminal law expert, but continuing Pistorius' detention could be challenged in court. The review would not affect Pistorius' future eligibility for release, Witz said.
The star athlete was acquitted of murder at his dramatic trial last year, but convicted of a lesser charge of culpable homicide, comparable to manslaughter, for shooting Steenkamp multiple times through a closed toilet door in his home.
Pistorius is also facing an appeal at the Supreme Court in November, when prosecutors will again press for a murder conviction and a minimum jail sentence of 15 years.
The family of Steenkamp had said in June when Pistorius' impending release was announced that "incarceration of 10 months for taking a life is simply not enough."
There was also opposition to Pistorius being allowed out early by a women's group, which sent a petition on Monday to Justice Minister Masutha.
In that petition, the Progressive Women's Movement of South Africa said the decision of the parole board was "outrageous" and "an insult" to victims of abuse. The group especially criticized Pistorius' release during August, which is women's month in South Africa and a time when issues including violence against women are highlighted.