One victim of the NYC explosion and fire officially identified as Nicholas Figueroa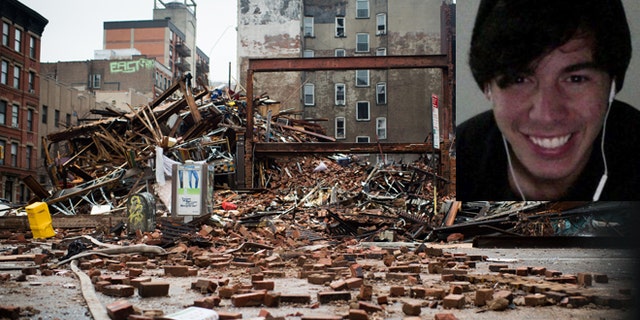 NEW YORK (AP) – After two bodies were pulled from the rubble of a Manhattan apartment building collapse, authorities shifted their focus to what caused the massive explosion and fire and the possibility that someone may have improperly tapped a gas line serving one of the buildings.
"There's reason to believe so far that there may have been inappropriate tampering with the gas lines within the building, but until we get full evidence we can't conclude that," Mayor Bill de Blasio said Sunday.
About half of site had been cleared by midday Monday, but investigators had not yet reached the cellar level where the explosion took place on Thursday.
"When we reach the level of the gas piping, the way the debris is removed will change so that those who will investigate the mechanics of what happened will have access to that without it being torn apart," said Fire Commissioner Daniel Nigro.
The mayor's office said Monday that one victim has been officially identified as 23-year-old Nicholas Figueroa. The bowling alley worker was on a date at a restaurant when the explosion and fire leveled three buildings.
DNA testing will be done to identify the second body that was recovered Sunday. Restaurant worker Moises Lucon was reported missing after the blast.
In August, utility workers had discovered that the gas line to the restaurant had been illegally tapped, according to Consolidated Edison. The discovery led Con Edison to shut down gas service to the building for about 10 days while the building owner made repairs. Gas service was restored after the utility deemed it safe, the utility said.
Inspectors from Con Ed visited that building about an hour before Thursday's explosion and determined work to upgrade gas service didn't pass inspection, locking the line to ensure it wouldn't be used and then leaving, officials said. The work underway was to put in a bigger line to serve the entire building, Con Ed President Craig Ivey said.
Fifteen minutes later, the sushi restaurant's owner smelled gas and called the landlord, who called the general contractor, Chief of Detectives Robert Boyce said. No one called 911 or Con Ed.
The contractor, Dilber Kukic, and the owner's son went into the basement and opened a door, and then the explosion happened, burning their faces, Boyce said.
Kukic — who's facing unrelated charges of bribing an undercover investigator posing as a housing inspector — declined through his lawyer to comment on the circumstances surrounding the explosion. City records show Kukic got a permit last June for plumbing, flooring, removing partition walls and other work at the building.
"The focus of the investigation is not on infrastructure ... it's focusing on the work that was being done in the basement of those locations, that's what we're focusing right now," said Joseph Esposito, commissioner of the city's Office of Emergency Management.
Like us on Facebook