One day after Omaha cop's death, her premature daughter sent home from hospital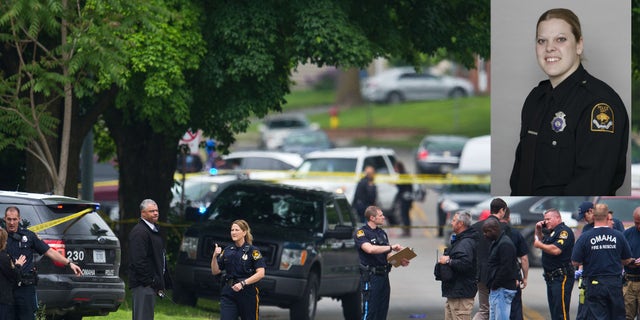 Today was supposed to be a special day for Omaha Police Officer Kerrie Orozco, who was scheduled to take her daughter, Olivia, who was born prematurely, home after three months in the neonatal intensive care unit.
But Orozco didn't make it.
The 29-year-old died at the Creighton University Medical Center shortly after 1 p.m. on Wednesday after a Nebraska man opened fire at her and other officers who were trying to arrest him for a previous shooting.
According to Omaha Police Chief Todd Schmaderer, it was Orozco's last day on duty before returning to her maternity leave.
"(The baby) is set to be released from the hospital tomorrow," Schmaderer said, his voice breaking.
Orozco was a 7-year veteran of the department who worked in its gang unit. She was the first female Omaha police officer to die in the line of duty, according to a list on the Officer Down Memorial online page.
She coached baseball at an Omaha Boys and Girls Club, was a Special Olympics volunteer and served as president of the Police Officers' Ball to benefit the Special Olympics, the chief said. She also took in rescue dogs and was a Girl Scout mentor.
"She was a friend, a popular officer," Schmaderer said. "I just can't even imagine that this has happened. The city of Omaha owes her and her family a debt of gratitude."
Besides her daughter, she is survived by her husband, Hector Orozco, two stepchildren ages 6 and 7, her mother and two siblings.
Schmaderer said Kerrie Orozco was part of a fugitive task force looking for the suspect, 26-year-old Marcus Wheeler, to serve a felony arrest warrant.
He opened fire on the officers as they approached. They fired back and Wheeler was later found behind a neighbor's house suffering from gunshot wounds. He died at the hospital.
"Mr. Wheeler is a convicted felon and a known gang member," Schmaderer said.
It's been more than 10 years since an Omaha officer was killed in the line of duty, when Officer Jason "Tye" Pratt was shot and killed in September 2003 while chasing down a fleeing suspect. That suspect, 21-year-old Albert Rucker of Omaha, was in turn shot and killed by another officer.
Dr. Michael Wagner, a trauma critical care surgeon at the hospital, said his team provided "aggressive care" to both Orozco and Wheeler, but neither could be revived. Paramedics had performed CPR on both officer and suspect as they were taken to the hospital.
Tiffany Atkins, who lives less than a block from where the shooting happened, said she heard between five and 10 shots Wednesday afternoon in the Florence neighborhood in north Omaha, made up mostly of Tudor-style brick homes along tree-lined streets. She said she took shelter in her basement and heard police cars swarming the scene within seconds of the shooting.
"I was raised in this neighborhood," Atkins said. "This makes me want to move."
The Omaha Police Foundation said Wednesday night that it would give all of its Omaha Gives donations to the Orozco family.
The donation total topped $68,000, from nearly 1,800 donors, the most of any nonprofit in the campaign.
During the press conference, Schmaderer rejected the idea that the shooting could damaging police-community relations, pointing out that the officers are also a part of the community.
"I think you'll see the city of Omaha band together ... and certainly support Officer Orozco for her sacrifice," he said, according to Omaha.com. "I think Omaha is a tremendous community. I've said all along that north Omaha (is a) tremendous community. And we're going to work through this issue with the community side by side."
Based on reporting by the Associated Press.
Like us on Facebook
Follow us on Twitter & Instagram